12th Exam Time table update: It has been officially announced that 12th board exam begin from May 3 to May 21. The timetable for the exams has been declared earlier and amidst the corona pandemic schools has been opened for the higher grade students. And revision exams, practicals are happening as per the guidance from the Directorate of school.
Meanwhile, TN Assembly election was on April 6, 2021 and the election result will be out on May 2,2021. Inspite of pandemic, the political parties were at the peak of their campaigning due to election. So it is to be expected that people to be safe at home instead of going out on the election result day to prevent the unwelcomed situation.
With the second wave of corona has new strain and it most likely affecting the youngsters, many students organisation, parents and others were on opposition on conducting board exam. The states like Maharashtra where positive cases are at its higher level, the state government has postponed their board exams.
But in Tamilnadu, the state's Directorate of exams confirmed with the Timetable for the 12th grade as it is the essential for the students next academic level.
As if she knows the cases will reduce automatically in the month of May and June and they can conduct offline exams?? Postponement was never a option!! Why would we protest this much just to listen this postponement news?? #cancelboardexam2021 #varshagaikwad #boardexams2021 pic.twitter.com/xxPFG9JyMZ

— Sarthak Kanojia (@SarthaKanojia) April 12, 2021
Language Paper Postponed
Presently, with the election result on May 2, 12th standard language paper which was scheduled on May 3 will be postponed to May 31st, 2021. Remaining other exams will be held as per the time table, Directorate of Government Examinations confirmed.
According to the directorate of board exams, the duration of each exam is three hours starting from 10.15am to 1.15pm.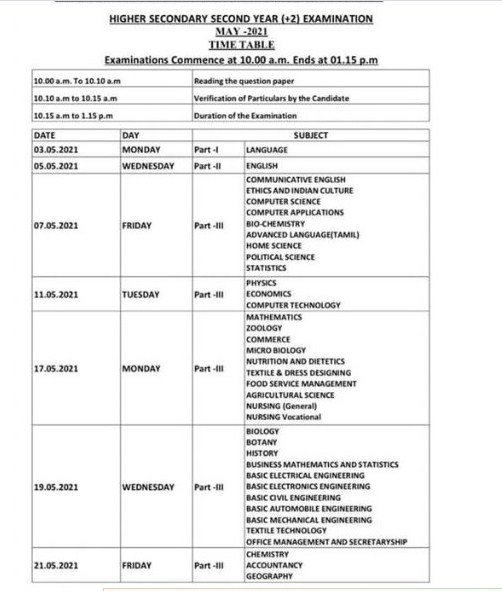 So All the best for the students appearing for the 12th board exams.