Abhishek Bachchan starring The Big Ball is all set to releases on Disney+ Hotstar VIP at 7.30pm today 08-04-2021. The movie is directed by Kookie Gulati and bankolled by Ajay Devgn. Speaking about the movie's OTT release, the director first rolled the film on 70mm screen but due to pandemic and current situation, the movie is adjusted to digital paltform.
The Big Bull
The movie The Big Bull is Hindi language crime movie based on stockbroker Harshad Mahta's securities scam of 1992, considered India's biggest financial fraud then.
The Big Bull Cast and Crew
Alongwith Jr.Bachchan, the movie also stars Nikita Dutta, Ileana D'cruz, Ram Kapoor, Sohum Shah, Mahesh Manjrekar and Saurabh Shukla among others.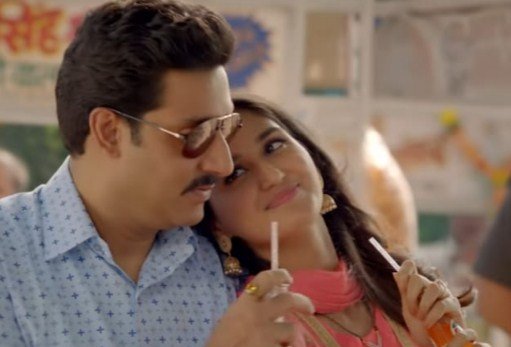 As Kookie Gulati directs the movie, the movie produced by actor-producer Ajay Devgn along with Anand Pandit, Vikranth Sharma. The songs of the movie composed by Gaurav Dasgupta,Wily Frenzy,Mehul Vyas whereas BGM scored by Sandeep Shirodkar. The movie's OTT release handled by Disney+ Hotstar.
The Big Bull Movie will be streaming on Disney+Hotstar at 7.30pm today.
Mean while, the lead actor of the movie actually hosting the watchparty of the premiere on Twitter also where audience can put forth their questions to the movie team as they watch the movie.
Until then here is the trailer of the movie to watch
This was not just a scam, it was the #MotherOfAllScams! #TheBigBullTrailer out now: https://t.co/X7dvfAyqYz
#TheBigBull releasing on 8th April on @DisneyplusHSVIP. #DisneyPlusHotstarMultiplex
@juniorbachchan @Ileana_Official @nikifyinglife @s0humshah @kookievgulati

— Ajay Devgn (@ajaydevgn) March 19, 2021
Jr.Bachchan reveals his family review on "The Big Bull"
As the movie will stream on Disney+Hotstar on April 8, 7.30pm the producer of the movie invited the Bachchan's family for the preview show. Out of the show, the lead actor reveals only his dad Amitabh Bachchan viewed the film whereas his beloved mom Jaya Bachchan and dealy wife Aishwarya Rai Bachchan will be watching the movie only after the release. The review from Sr.Bachchan is "he has loved it and has wonderful things to say".
To join #thebigbullwatchparty, in twitter
–> ❤️ Or RT this tweet
–> Get a reminder to join Abhishek Bachchan for #TheBigBullWatchParty ?
–> And…ask The Big Bull your questions ?& @juniorbachchan might answer it! pic.twitter.com/cMEuJjtWQi

— Disney+HotstarVIP (@DisneyplusHSVIP) April 7, 2021
Read about: Download Karnan movie trending in Google trends