2 deoxy d glucose or 2DG, an anti covid-19 drug has been developed by DRDO (Defence Research and Development Organisation) in collaboration with Dr. Reddy's Laboratories. 2 DG is an anti covid oral drug recently got approval from DCGI (Drug Controller General of India) for emergency use as an therapy for moderate cases of Covid-19. The drug has proven the faster recovery under hospitalised patients and reduced the use of Oxygen dependency.
2 deoxy d glucose (2DG) Anti Covid Drug
2 DG drug comes in powder form and can be taken orally by dissolving it in water. The drug accumulates in virus infected cells and prevents its growth by stopping their synthesis and energy production. "Clinical trial results have shown that this molecule helps in faster recovery of hospitalised patients and reduces supplemental oxygen dependence," DRDO official said.
About the public use of drug," Our Industry partner is Dr Reddy's Laboratories. We are working and trying together to expedite manufacturing. In a few weeks or within a month time, the medicine will be available for the patients," said Dr.Sudhir Chandna a scientist at INMAS, lab in DRDO.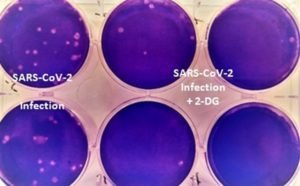 Presently, it is announced as the first batch of 10,000 medicine will be released on May 17, Monday by defence Minister Rajnath Singh and Health Minister Dr.Harsh Vardhan via video conferencing by 10.30am. Also it is said that the first set of medicine will be available to few hospitals in Delhi.
Raksha Mantri Shri @rajnathsingh will release the first batch of Anti Covid drug 2DG via video conferencing facility tomorrow at 10.30 AM. The drug has been developed by DRDO's Institute of Nuclear Medicine & Allied Sciences (INMAS) in collaboration with Dr Reddy's Laboratories.

— रक्षा मंत्री कार्यालय/ RMO India (@DefenceMinIndia) May 16, 2021
2DG functions and dosage
With the drugs like Hydroxychloroquinone, Remdesivir and Ivermectin which has shown their effectiveness in treating, 2DG is the first one to be prescribed as anti-covid drug. Also, the relieving part is the drug is supposed to arrest any variant of multiplying virus.
On speaking on dosage of drug, Dr.Sudhir Chandna said the drug can be taken twice with water. The patient has to take this drug for five to seven days to get completely cured.
Being in the toughest time with Covid-19, now alongwith vaccinations, the people across the country can breath free after hearing the release and availability of drugs to the public.