APJ Abdul Kalam Death Anniversary: APJ Abdul Kalam was an Indian aerospace scientist who served as the 11th President of India. Kalam was born on 15th October 1931 at Rameswaram city in Tamil Nadu. He has been popularly known as Missie Man of India.
Kalam collapsed and passed away due to a cardiac arrest on 27th July 2015. He has given a lecture at the Indian Institute of Management at Shillong when died. Kalam was elected as the 11th President of India in 2002. He became President with the support of both the ruling Bharatiya Janata Party and the Indian National Congress.
President Dr. Kalam left for the universe which he used to say "Look at the sky". We are not alone. The universe is our friend." Perhaps it would not be an overstatement to say that Dr. Abdul Kalam was among those who coined a new definition of the post of President which the coming generations will remember
Achievements of APJ Abdul Kalam
He wrote around 2 dozen books. Some are India 2020, Vision for the new millennium, Mission of India: A Vision of Indian Youth.
Dr. Kalam was awarded honorary doctorates from 48 universities and institutions from India and abroad.
Kalam also received the awards such as Padma Bhushan in 1981, Padma Vibhushan in 1990, and the highest civilian award of India- Bharat Ratna in1997.
He also served as the Chief Scientific Adviser to the PM and Secretary of the DRDO from 1992 to 1999.
Kalam's autobiography Wings of Fire was initially published in English. Later it was translated into 13 languages.
Dr. Abdul Kalam played an important role in making India's first rocket SLV-3. His role was also very important in the construction of the Polar Satellite Launch Vehicle (PSLV).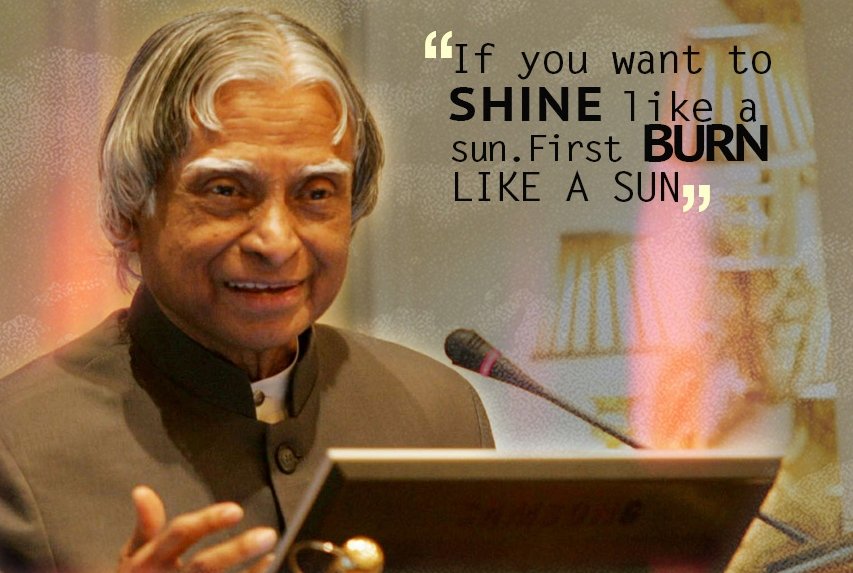 Quotes of Missile Man
You have to dream before your dreams can come true.
A dream is not that which you see while sleeping, it is something that does not let you sleep.
You should not give up and we should not allow the problem to defeat us.
If you want to shine like a sun, first burn like a sun.
I was willing to accept what I couldn't change.
All of us do not have equal talent. But, all of us have an equal opportunity to develop our talents.
Man needs difficulties in life because they are necessary to enjoy success.
Don't take a rest after your first victory because if you fail in the second, more lips are waiting to say that your first victory was just luck.
Let us sacrifice our today so that our children can have a better tomorrow.
I am not handsome but I can give my hand to someone who needs help… Because beauty is required in the heart, not in the face.