AhoyTeam Review: AhoyTeam is a no-code workflow automation platform for remote teams to automate routine processes directly in Slack and email.
AhoyTeam empowers distributed teams to save valuable time and be more efficient with a new way of tackling workflows. AhoyTeam powers the workflow automation for the teams at Twilio, InVision, Autodesk, and more.
Create automated workflows to assign, notify, and remind to-do's exactly when it matters directly within Slack and email. Automate repetitive workflows from new starter onboarding to weekly standup routines to employee engagement surveys.
Buy AhoyTeam Lifetime Deal for $59.00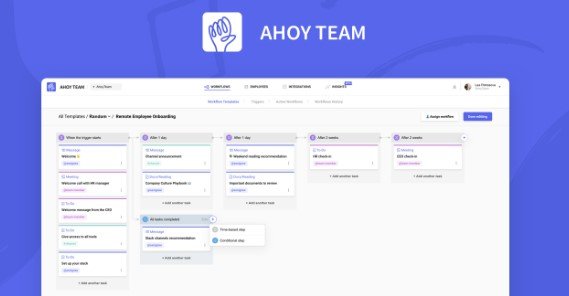 Automate workflows for employees to send requests such as complaints, PTO, new equipment requests, and ask any relevant questions directly through Slack. Set up important Slack or email notifications and to-do tasks for various stakeholders whenever something happens in apps like Airtable, Jira, Trello, GitHub, etc.
Use pre-made workflow templates to quickly automate some of your key routine remote team processes
Connect integrations for apps like GitHub, Jira, Asana, Airtable, etc., and make your Ahoy workflows even more powerful
Take advantage of insights and analytics from all workflows automated through AhoyTeam and improve your processes
AhoyTeam AppSumo Plan
1,000 Active workflows/monthly

Unlimited invited members

Unlimited workflow templates

Access to pre-made templates

Access to Analytics & Insights

Members advanced permissions
As a marketer collaborating on content and marketing resources with a team of 4-5 people, AhoyTeam has been a game-changer in our process. Glad to spend more time on deep work instead of doing individual follow-ups. Team has been really proactive and helped me to fine-tune existing workflows. Excited to see where this platform lands in the future!