Divjoy : Divjoy is a React codebase & UI generator that gives you everything you need for your next project, including authentication, data fetching, payments (powered by Stripe), billing management, marketing pages, forms, and more.
No more rebuilding the same basic layouts, struggling to integrate auth, reading docs to figure out why your payments webhook isn't working, and hundreds of other annoying tasks
Buy Divjoy Lifetime Deal for $79.00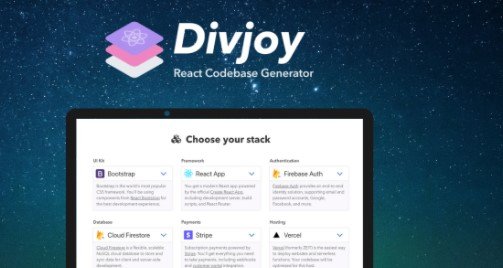 Just select your stack on the homepage, choose a template, and export a high-quality React codebase that you can keep building on. Everything just works.Divjoy even has a no code editor so you can tweak styles, create new pages, and customize your app before moving to code.
If you're new to React you may also enjoy our no-code editor that allows you to explore your app structure, customize styles, and drag in new pre-built sections from our library of components. It's a great way to play around with ideas and get a feel for your app before moving over to code.
Firebase Auth and Auth0 integration
Cloud Firestore DB integration
Stripe Subscription Payments
Serverless logic for hosting with Vercel or Netlify
Express.js logic for hosting anywhere else
Built-in nocode editor
Access to all future integrations, templates, and components
I've been building web apps for over 12 years now, but have always been frustrated with how much time is wasted on initial setup, integrating services, and rebuilding the same basic layouts. I always wanted a tool where I could just pick my tech stack,