BJP files a complaint against actress Oviya in cybercrime: Actress Oviya has lodged a complaint with the Cyber ​​Crime Office for posting a controversial Twitter post about the Prime Minister coming to Chennai. The complaint said that a treason case should be registered.
The Central Government has done nothing for Tamil Nadu. Opposition parties have accused the Prime Minister of being blind when the people of Tamil Nadu were affected by the neglect of Tamil Nadu welfare, the cyclone Gaja and the Cyclonic Storm Ockhi on issues like NEET and Cauvery.
Opposition parties, including the DMK and Ma.Thi.Mu.Ka showed a black flag to Prime Minister Modi who arrived in Tamil Nadu at that time. The hashtag 'Go Back Modi' was viral at the time. It is a trend in India. Following this, every time Prime Minister Modi visits Tamil Nadu, Netizens record 'Go Back Modi'. In support of this, the BJP posted 'Welcome Modi'.
Curfew was recently imposed due to corona infection. After that, Prime Minister Modi did not come to Tamil Nadu. In this situation, Modi arrived in Chennai on 14th February after the pandemic. Following his arrival, the hashtag 'Go Back Modi' was posted on Twitter by netizens.
The day before Modi's arrival, actress Oviya had posted on her Twitter page that 'Go Back Modi'.
It is the official page of actress Ovia. This shocked many. Normally political parties, Netizens routinely register. But Oviya, a leading actress who was made famous by Bigg Boss, caused a stir when she recorded this.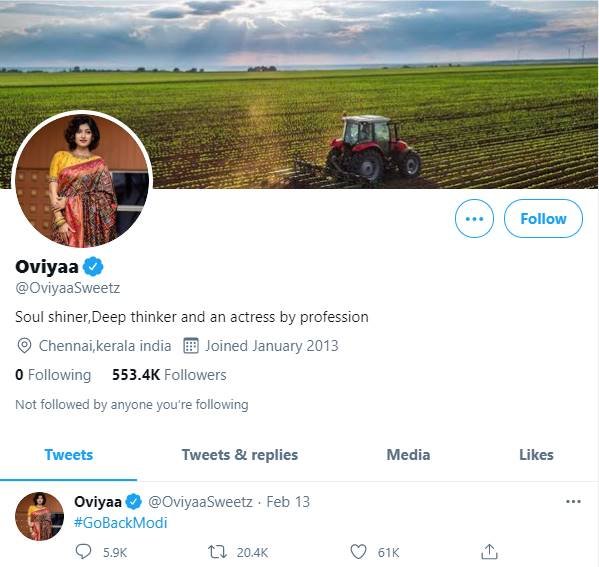 Oviya's Twitter page has 5 lakh 51 thousand followers. His 'Go Back Modi' post has been retweeted by 19.8 thousand people. 58.7 thousand people have liked it.
Alex Sudhakar, state secretary of the BJP's lawyer wing has lodged a complaint with the cyber cell of the CB CID office over Oviya's tweet.
In it, the actress Oviya has posted 'Go Back Modi' in a way that tarnishes the name of the Prime Minister and creates tension in society. This should be investigated and appropriate action is taken.
Oviya has been asked to register under sections 124 (a) (treason case), 153 (causing tension between the two communities), 294 (defamation) and 69 (a) IT section law.