Bloo Review: A Project Management System that makes teamwork simple, efficient and enjoyable with unlimited projects, users and storage. Bloo is a fully-featured service with calendar and schedule management, activity feeds, notifications and the ability to automate just about anything. Users create their projects then add their team members and everything is ready to go super easy to get started.
From the small stuff to the big picture, Bloo organizes work so teams are clear on what to do, why it matters and how to get it done.
Click Here to Buy Bloo Pitchground Lifetime Deal for $99.00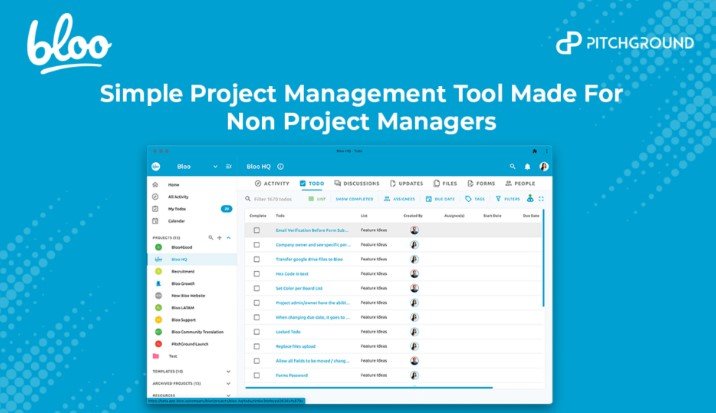 Learn more about Bloo!
Projects – Create unlimited projects to  separate your work and keeps things private.
Boards – Use the board view to create simple and efficient processes in your team.
Activity Feed – Know what's happening, with a live activity feed that shows you everything.
@mentions – Ping a colleague by mentioning them in any comment.
Calendars – Each project has a calendar, and we have cross-project calendars for planning.
Smart Notifications – Choose how, when, and where will Bloo notify you. You're in control at all times.
Import & Export – Get data in (or out) in minutes with the CSV import and export.
Dark Mode – Working late? No problem, reduce glare and eye strain with dark mode.
Automations – Automate common workflow actions that happen again and again.
Files – Upload an unlimited amount of files to any projects.
Custom Fields – Build your own data structure with over 15 different types of custom fields.
Forms – Have form data jump directly into Bloo! Great for field work, tickets, and sales.
Lists – Filter and sort lists to get the precise data set you're looking for, every time.
Maps – Add geo-location data and visualize your items on an interactive map.
Click Here to Buy Bloo Pitchground Lifetime Deal for $99.00
Search – Make all of your data searchable in seconds, and always find what you need.
Bloo takes the headache out of managing work – Whether you're launching a website, running sales, or hiring people — you can do it faster and better with Bloo as your one source of truth.
No training required – With Bloo, your team, contractors, and clients can use the platform— without any help. It's easier to understand with clear documentation and videos.