BMW CE 04: BMW Motorrad has unveiled its first electric scooter, the CE-04. The company introduced this electric scooter as a concept model in 2017. However, now this scooter is completely ready and its production model is under testing. Recently, the company has revealed some new details of the CE-04 electric scooter.
This electric scooter has a 10.25-inch TFT touchscreen instrument cluster, which also offers connectivity features with map navigation. In this colorful display, the route can be traced through the map while driving the scooter. Apart from this, information about battery percentage, range and speed can also be seen on the display.
The BMW CE-04 electric scooter gets an LED headlight, taillight and indicator. This scooter has been given a skateboard-like design. The seat height of the scooter is quite low and the handlebar is given at the height. The scooter gets the riding position of a cruiser bike which keeps the body straight and gives comfort to the rider.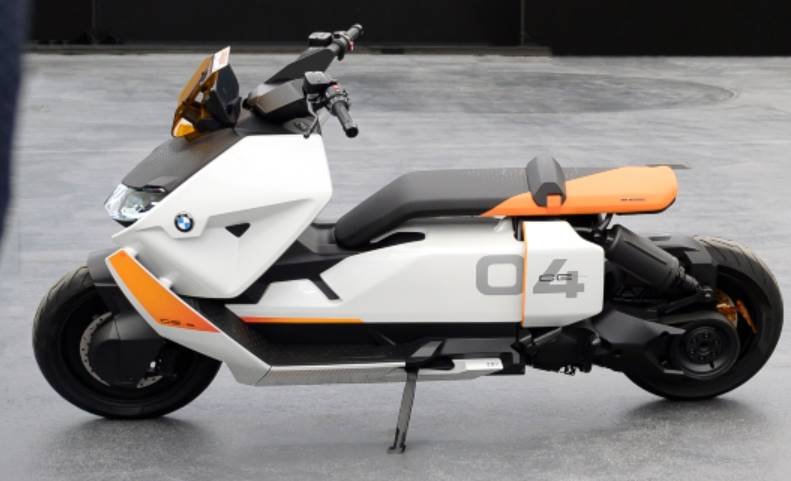 The scooter has a flat and long seat, below which is the battery and motor compartment. The scooter's belt drive system transmits the motor's power to the rear wheel. The scooter has dual disc brakes with wide front and rear tyres. The scooter does not have a fuel tank, so it gets a lot of under-seat storage space.
The BMW CE-04 is powered by an 8.9 kWh battery pack that gives the scooter a range of 130 km on a full charge. The electric motor of the scooter is capable of generating 42 Bhp of power. To improve the balance of the scooter, its battery pack has been mounted on the floorboard of the scooter.
The battery in this scooter is placed between the rear wheel and the electric motor, which gives excellent balance to the scooter. It accelerates from 0-50 km/h in just 2.6 seconds. At the same time, its top speed is 120 km/h.
Talking about charging, this BMW scooter gets fully charged in 4 hours from a normal wall socket. At the same time, with a fast charger, it can be fully charged in 1 hour 40 minutes. This scooter has three riding modes – Eco, Rain and Road. ABS has been given in the scooter for better brake performance.