Breve Appsumo: Quickly create and share video updates while measuring views and engagement. No beef with Vanilla Ice, but yelling "Stop! Collaborate and listen!" isn't the most effective way to communicate with your team—especially if they're remote. But meetings and project updates get lost in the shuffle when your team is busy juggling all the responsibilities for both their work and personal lives.
With Breve, you can effortlessly record and share video updates with your team to keep everyone in the loop, wherever they are and whenever they work. But Breve videos aren't just recorded meetings. They're strategic micro-updates that keep your team members on the same page and moving in the same direction. Breve also helps you build better internal communications processes by allowing you to set schedules and reminders to update your team throughout the year.
Click Here to Buy Breve Appsumo Lifetime Deal for $59.00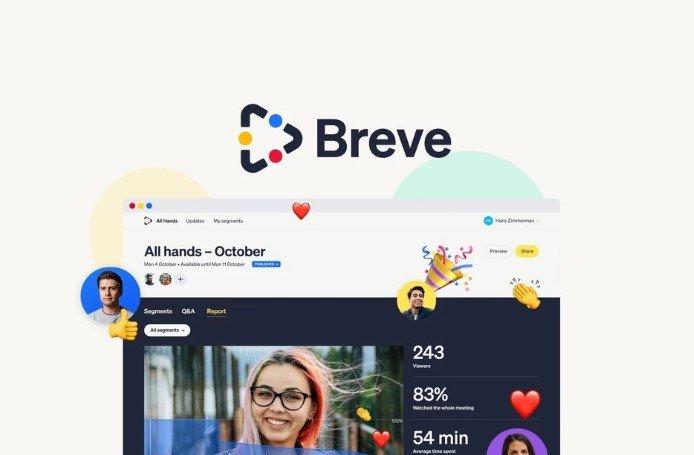 Get started recording your video updates from your computer or phone right away, without downloading any additional apps. Breve also lets you avoid scheduling delays because you don't need to coordinate to find time on anyone's calendar—perfect for distributed teams in different time zones. Each presenter can record their part of the update on their own schedule, then everyone on your team can watch it when they have time.
Share asynchronous video updates with your team wherever they may be, whether that's their inbox, Slack, or Microsoft Teams—they can tune in whenever they're ready. You can even get insights into what your team thinks about your updates with built-in emoji reactions that allow team members to engage as they're watching. Plus, use Q&A and feedback loops to address questions or provide deeper dives into important topics.
Get better with each video update as you get feedback from your team on the videos you publish. Breve offers key engagement metrics, such as views for each segment, which let you know if your message is getting across or not. You'll see how long people are watching and where they're engaging most, so you can make tweaks to your updates and presentations for better videos.
Sometimes finding a meeting time that works with everyone's schedule can take longer than the meeting itself. With Breve, scheduling delays are a thing of the past with video updates that keep your whole team on the same page.
Click Here to Buy Breve Appsumo Lifetime Deal for $59.00
Plans and Features
Lifetime access to Breve
All future All Accounts Plan updates
No codes, no stacking—just choose the plan that's right for you
You must activate your license within 60 days of purchase
Ability to upgrade or downgrade between 5 license tiers
Only for new Breve users who do not have existing accounts
All team members can be designated to manage, present, and schedule
The number of team members per month is based on the number of engaged users
An engaged user is anyone in your team active on Breve in a given month (watching, organizing, or contributing to an update)
60-day money-back guarantee, no matter the reason