CLEVIRA is a drug primarily developed to treat dengue patients in 2017. It has been repurposed as a supportive treatment for mild to moderate Covid-19 cases. Its manufacturer, Apex Laboratories Private Limited, said on Friday, April 23, 2021. The drug is effective when taken orally and the dosage recommended is twice daily after food for 14 days. It is proven to be safe on liver and kidney parameters.
Clevira is an antiviral formulation, and has received regulatory approval as a supportive treatment for mild to moderate Covid-19 cases. Apex Laboratories said, "it has got the approval from the Ministry of Ayush for its antiviral drug Clevira as a supporting measure for mild to moderate condition of Covid-19".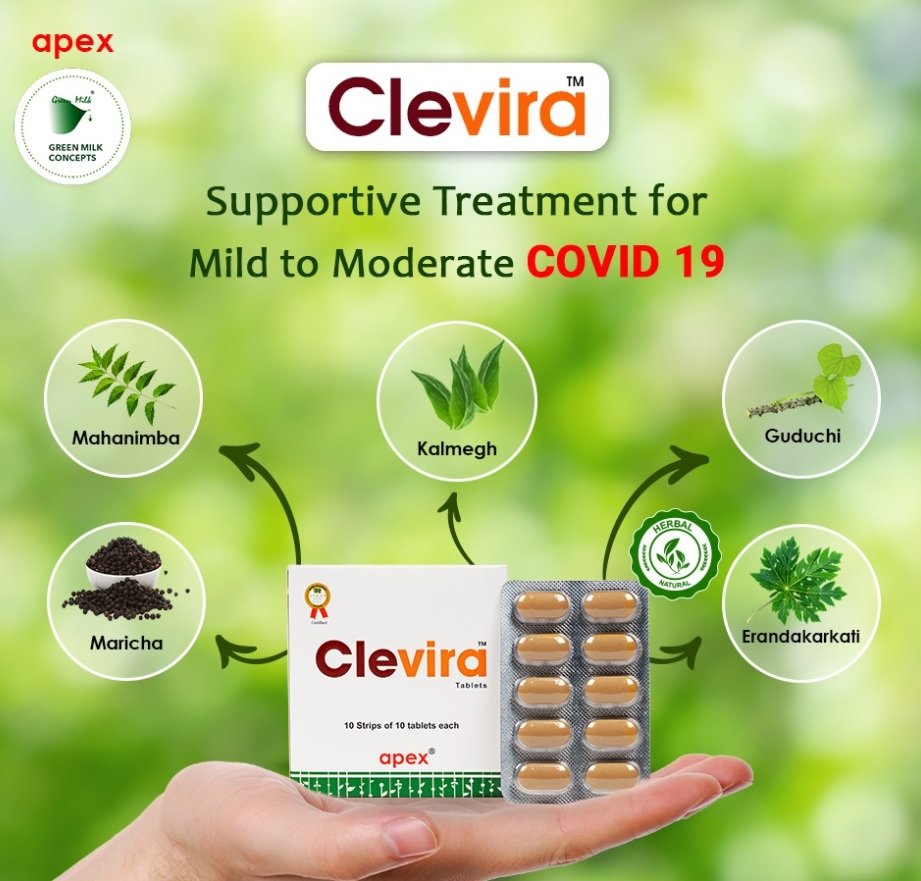 Clevira Tablet for Covid-19: Clinical Research & Result
A clinical trial was conducted on 100 people in May-June last year and the results were "promising". The selected 100 participants were randomized into two groups with 50 patients each. During the 30 day-trial conducted at Government Medical College Omandurar Government Estate in Chennai after getting prior approval from the Tamil Nadu government.
The control group comprised patients diagnosed with SARS-CoV-2 infection and received standard care treatment as per hospital regulations as well as the WHO/Indian Council for Medical Research (ICMR) guidelines. The test group patients also received Clevira tablets twice daily orally after food for 14 days.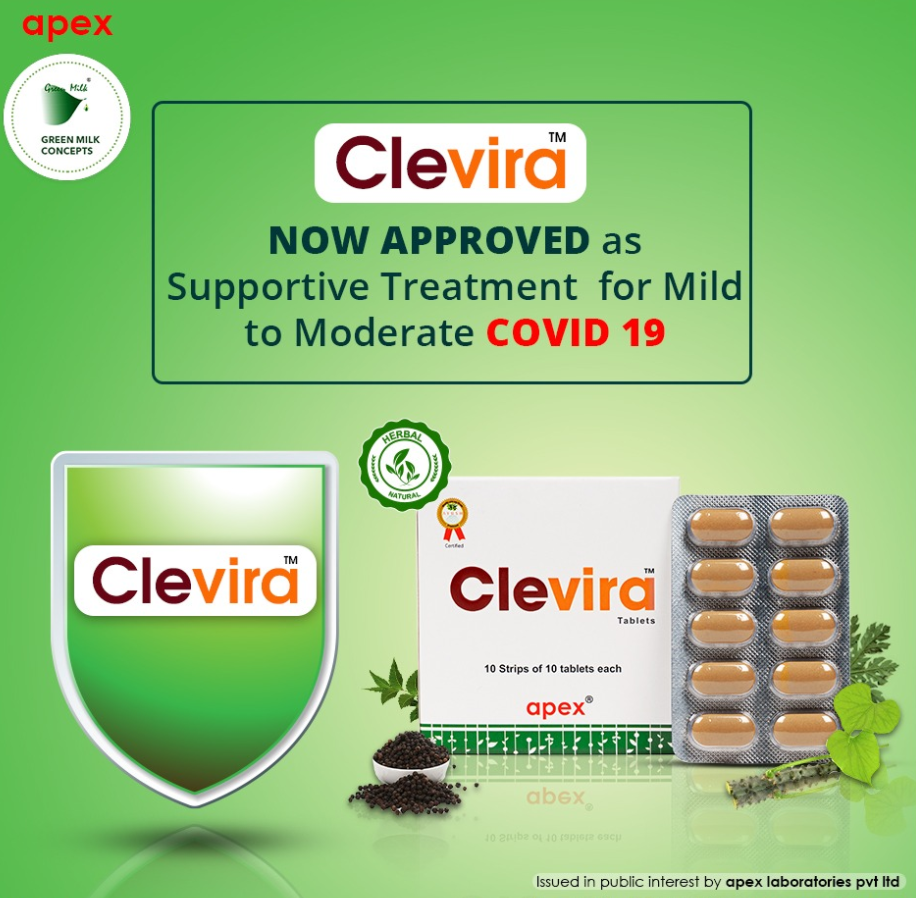 "It was found that Clevira significantly reduced the time taken for clinical recovery, which was noted in terms of reduction in pyrexia or body pain, normalization of the respiratory rate (less than 24/minute) and improvement in oxygen saturation level (more than 94 per cent)," the company said.
Besides, 86 per cent of patients tested negative for the infection on (day 5) and 100 per cent of patients turned out to be Covid-19 RT-PCR test negative on (day 10) after consuming Clevira tablets. The clinical trial results were submitted to the Tamil Nadu government, ICMR and the Ministry of AYUSH in 2020.
"After rigorous scrutiny and deliberations, the drug got approval to be used as a supporting measure for treating mild to moderate COVID-19 symptoms by the Ministry of AYUSH regulators, a first-of-its-kind approval in India through various stages of scrutiny at the Central Council for Research in Ayurvedic Sciences (CCRAS) and the Interdisciplinary Technical Review Committee (ITRC)," the company said.
Significant reduction in Erythrocyte Sedimentation Rate (ESR) is evident that the drug elicits anti-inflammatory property. Clevira is proven effective as an analgesic, antipyretic and reversal of thrombocytopenia. The product is available across India and is priced at Rs.11/- per tablet. (And ₹110/strip)
The company said the drug is available across India. The company's flagship product is Zincovit which is in good demand from corporate hospitals for Covid-19. Apex Laboratories is also into dermatology, pain management, anti-infectives, anti-viral, nutraceuticals and herbal products.
How to take Clevira Tablet?
The drug is recommended for all age groups from the age of 2 years.
The drug is effective when taken orally and the dosage is one tablet twice daily after food for 14 days.
In 5 days, it works in Covid-19 Mild symptoms.
It will have no side effects.
However, it's approved as a supportive drug for COVID-19.
The manufacturer of Clevira has also proved it is safe on liver and kidney parameters".
According to the official, the company will position this as a doctor prescribed drug and not consumed as its own.
Can Clevira be taken as preventive medicine?
As mentioned by the manufacturer, tablets can be taken while you have any symptoms noticed even if it may be body tiredness, mild fever, cough or cold. Without symptoms, it is not necessary to take Clevira as before.
Clevira Compositions:
How to buy Clevira Online?
The following links will take you to the website to buy the CLEVIRA at the earliest. Available in two forms: tablet and syrup.
From Manufacturers – Click here to buy Clevira Syrup 200ml from Apex lab @ ₹199/-

Public Review of Clevira Tablet/Syrup:
It also shows the reviews from the public which were derived below collectively for your kind reference.
Personal review as a blogger, found good and helps in recovery from mild to moderate COVID-19 symptoms who have good oxygen levels. And also not only for Covid-19, even can be used for normal colds and coughs. However, you need to discuss this with your physician before consuming it. For covid-19, it's approved as supportive medicine, and can be taken as additional.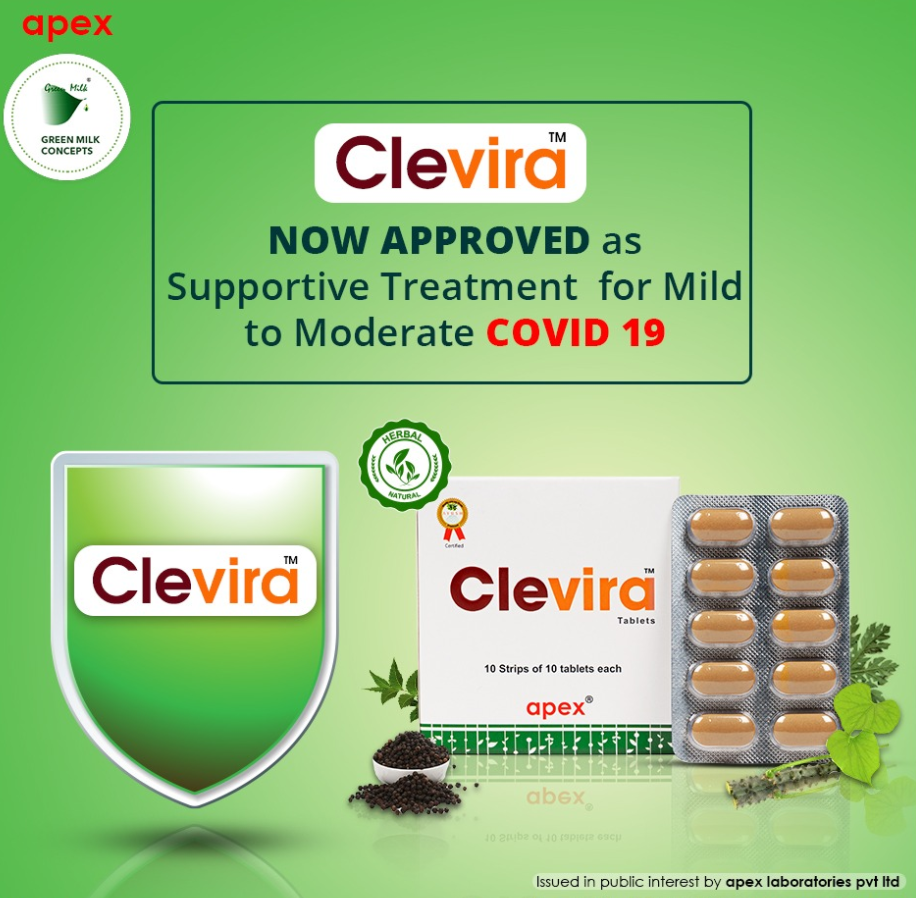 Amazon reviews:
Good one and excellent products for clevira tablet s at the current time in our safe with my family with your products
Taking this product from yesterday(19.05.2021). i could see some difference after taking this product…Must have this product for pandemic days… Good thing is that we can give it to children. No harm in trying this product as there are 0 side effects..
Ayurvedic antiviral medicine. Useful in this pandemic. Syrup is useful for children…
My feelings more powerful than table I took both(after lunch. morning and night tablet after meal) feel great breath than normal days good product. (Indian Postal is only deliver the shipment to our area product is also not available in any e-commerce site thanks to Amazon for timely help) Thanks Amazon and APEX LTD
Good Product for Health
Thank you , good product , on time delivery and good packaging.
Product is good. But the way Amazon delivered I mean the packing is very bad.
I bought increase immunity in the pandemic world. let see results. 10ML daily for Adults for 14 days. So you buy and use it.
Green milk concept reviews:
Good Medicine, I am using it for a week. Now no pain, no fever. Feel very healthy.
All of us in our family have been using it for nearly two weeks.. My skin allergy that had been there for years has somehow magically vanished after one week of consumption of the tablet. Proof that it works on immunity well. Hence recommending it to all family and friends now. It's the fifth box that I am ordering now for a family member
Good health supplements… Please ensure availability at all local medical shops
Very good product. It should be distributed to all covid patients, it will help to recover fast without side effects.
Really good, I also taken ,now no fever, throat pain.
Very good medicine for COVID. Availability of the medicine should be ensured even smallest medical shops in village. More publicity to be give to make awareness of the uses and importance of this medicine. All our family members are talking this medicine. Even we are giving syrup to kids. Now I am ordering for my friends.
Thanks to APEX.
Very good medicine for Cold and cough, It worked really well. I should say that its a must have one in every home in this Covid times.