Cook with Comali season 2 Pavithra Eliminated: After watching the show on Disney+ Hotstar early than Television because I subscribed to VIP pack. The result of Cook with Comali Season 2 Elimination on 14th March 2021 is Pavithra who eliminated as predicted by the fans of this reality show.
After the elimination of Mathurai Muthu, Deepa Shankar, Dharsha Gupta, Rithika Tamil Selvi (Wild-Card Contestant), now Pavithra Lakshmi has eliminated from the show.
In the Cook with Comali Season 2 Episode 34 on March 14th, 2021, Mathurai Muthu and Sunita Gogoi joined to make extra fun of the show.
Pavitra lost her advantage task 1 against three other contestants. Ashwin and Shakeela lost their advantage task 2 against Kani. Check the advantage task episode updates here. Shivangi joined with Ashwin again back-to-back weeks. Pugazh paired with Kani in the get-up of Baba Baskar master.
READ: Cook with Comali Season 2 Contestant and Comali Salary Details
Ashwin saved from the elimination against Pavithra Lakshmi because of the valid reasons by the decisions of chef Venkatesh Bhat. Shivangi is happy about this result, but Bala felt bad about his historical connection with the eliminated contestants.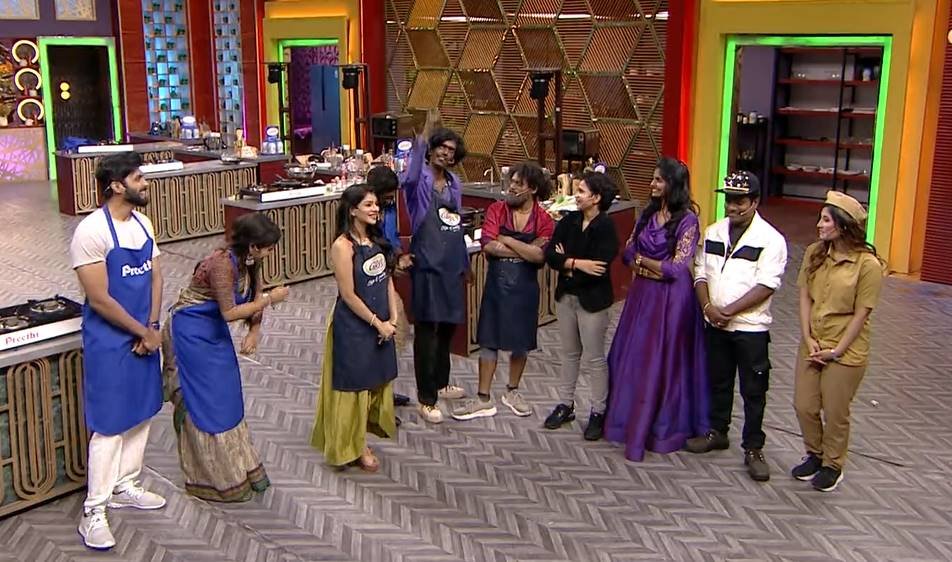 The episode started with the confusion round with the all favorite comali Sivaangi. She became upset because of the recipe which told. Then Bala entered the confusion room and started his usual style of counters against the voice who told the recipe and ingredients.
Manimegalai in full form!
The comalis missed many ingredients in their notes and forgot the recipe which told in the confusion room. Watch these scenes which definitely makes everyone laugh out loud as usual.
When Bala was a comali in Season 1 and Season 2 on elimination round, the following contestants were eliminated from the show; Mohan Vaithiya, Thadi Balaji, Gnanasambandam, Priyanka Robo Shankar, Rekha, Madurai Muthu and Rithika Tamil Selvi.
Sunitha entered to help the cooks who all in the confusion, but she is not the expected one by the cooks and comalis.
Kani-Pugazh and Shakeela-Manimegalai went into the save zone. So Ashwin-Sivaangi and Pavithra-Bala compete with each other to save themself from elimination.
Stay tuned for more latest updates.