Cook with Comali Season 2 SemiFinal Update: This is the 35th episode of Cook with Comali Season 2 on 20th March 2021, Saturday. There are only four contestants now at this stage of the Semifinal week. They are Baba Baskar, Shakeela, Kani and Ashwin.
The show was started with the contestants of Madurai Muthu, Deepa Shankar, Dharsha Gupta, Pavithra Lakshmi, Shakeela, Kani Thiru, Baba Bhaskar and Ashwin Kumar. Rithika Tamil Selvi entered as a wild-card contestant to this show.
READ: Cook with Comali fame Pugazh signs another BIG movie with VJS
Cook with Comali Season 2 SemiFinal Update – 20th March 2021
Comalis are in the get-up of famous Tamil Movie characters. Each Cook has two comalis, which is the first twist of this episode. Check the character names;
Pugazh as Thevar Magan Sakthivel (Actor Kamal Haasan),
Sivangi as Ghajini Kalpana (Actress Asin),
Thangadurai as Avvai Shanmugi Vishwanathan Iyer (Actor Gemini Ganesan),
Sarath Raj as Thevar Magan Periya Thevar (Actor Sivaji Ganesan),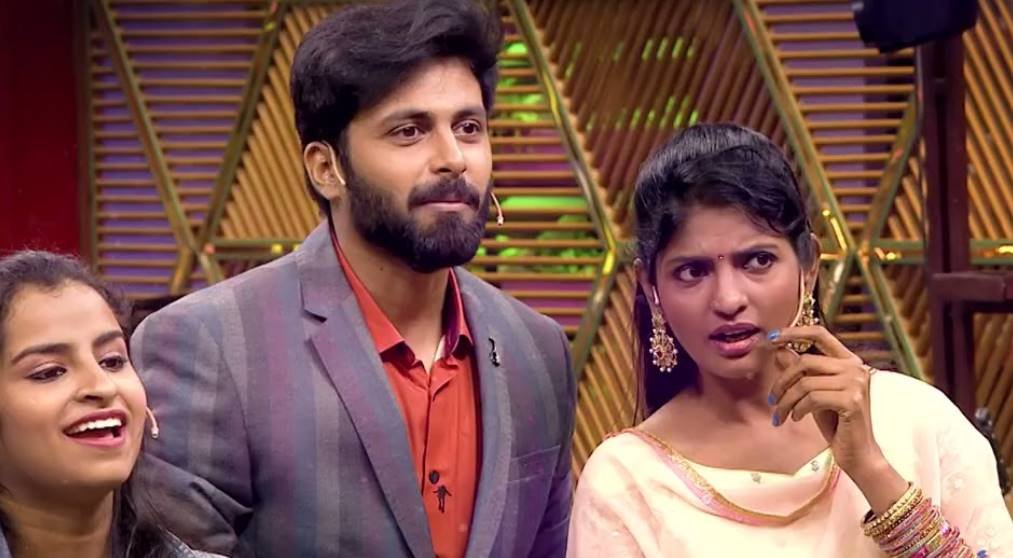 Sakthi as Avvai Shanmughi (Actor Kamal Haasan),
Sunitha as Anbe Vaa Geetha (Saroja Devi),
Pappu as Anbe Vaa JB/Balu (Actor M.G.R),
Bala as Ghajini Sanjay Ramasamy (Actor Surya)
Chef Venkatesh Bhat said that it should be Wold Cuisine Only in this week, no Indian dishes.
Comali Selection Process
Shakeela chooses puff and selected Anbe Vaa movie, so Sunitha and Pappu are the comalis. Baba Bhaskar has taken a cool drink and it's Avvai Shanmughi, it's Sakthi and Thangadurai.
Kani and Ashwin took Popcorn and Doughnut respectively. So Aswin paired up with Sivaangi again along with Bala. Kani had to choose Popcorn without any choice, so she paired up with Pugazh-Sarath.
It's Hat-trick week of Aswin and Sivangi pair. But this time Bala was there with them.
Advantage Task 1: Chocolate Dome.
In advantage task 1, Baba Bhaskar master made 9 domes. Ashwin made only one because of Sivaangi's mistake. Shakeela and the team made 8 domes with the help of Sunitha's good work. Kani and the team made 5 domes. So Baba Bhaskar, Shakeela and Kani have selected to advantage task round one winners.
Kani and the team won the advantage task. Stay tuned for more updates!