Today, in the crypto market the coin EthereumMax which is represented as EMAX has gained top today. The coin has hiked by 21747% in less than 24 hours on 31st May 2021. It is one of the fastest growing tokens in cryptocurrency history.
The price of this crypto has been raised today as their new tokens are live today. Today, it is trending as #1 on dextools. This coin EthereumMax has reached its all high value today just before two hours of writing this article. The price of EthereumMax (EMAX) is $0.00000056 at the time of writing this article.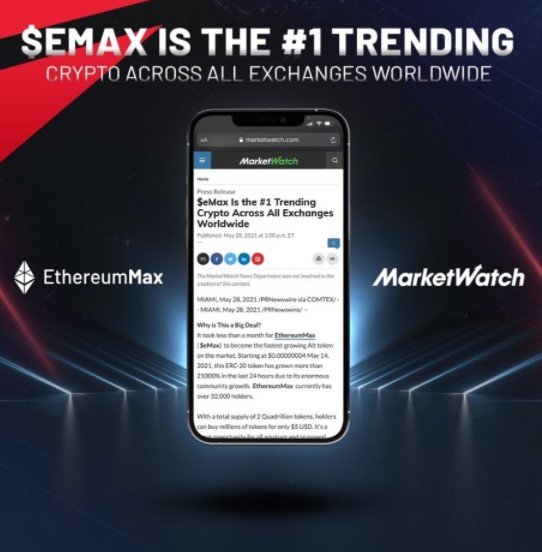 Where to Buy EthereumMax (EMAX)?
EthereumMax can be bought and sold in crypto exchange sites such as Uniswap (v2), Sushiswap and Hotbit for the exchange of ETH and USDT. The trading volume of this coin EthereumMax is $61,467,965. It is predicted that it will have good value by the end of this year 2021 and so it is a good option for traders and investors to buy this crypto now.
About EthereumMax (EMAX) Coin & Market Data
EthereumMax price today is $0.00000056 with a 24-hour trading volume of $61,467,965. EMAX price is up 21747.40284472055% in the last 24 hours. It has a circulating supply of 0 EMAX coins and a max supply of 2 Quadrillion. If you are looking to buy or sell EthereumMax, Uniswap (v2) is currently the most active exchange.
EthereumMax is an ERC20 token launched with a total supply of 2 quadrillion $eMax. With no pre-sale and none held back for the development team, 100% of the tokens were released on the open market creating a fair and complete distribution of the coins. eMax was created with the purpose of providing the world with an Ethereum based token that gives holders the security and versatility of the Ethereum blockchain while yielding rewards and enhancing the decentralization of digital assets.
The token was built with a vision to strengthen the existing systems while adding secondary benefits that redistributes 2% of all transactions to existing holders. This will supply investors with an increase of $eMax in their wallets with each transaction.
The secured blockchain ledger grants investors control and security over all of their digital assets. eMax utilities the eco-friendly Proof-of-Stake technology to verify every transaction. By doing so, it allows eMax to operate in an environmental friendly and sustainable manner