Farmers protesting against the three contentious agri laws passed by the central government will launch an agitation on Thursday at the Jantar Mantar near Parliament in New Delhi. A series of demonstrations against the farm laws will be held by the Samyukta Kisan Morcha (SKM), an umbrella body of protesting farm unions.
The farmers' movement was granted permission for the Jantar Mantar demonstration by Delhi lieutenant-governor Anil Baijal on the condition that only a maximum of 200 protestors will be allowed till August 9.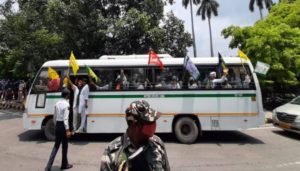 Protesting farmers have also been asked to provide an affidavit declaring that all Covid-19 norms will be followed and that the movement will be peaceful. The demonstrators will also be met with heavy security deployment in the area amid the ongoing monsoon session of Parliament.
The Delhi police have come out with preventive arrangements to check the entry of any miscreant at the Tikri border ahead of farmers' planned protest for the repeal of three farm laws. DCP, outer district, Parvider Singh, said, " We have placed preventive arrangements to avoid the entry of any miscreant at the at Tikri border. The arrangement has been put in place as they (farmers) haven't received permission to hold protest here."