Mary Kom(39), an Indian amateur boxer, politician and Member of Parliament, Rajya sabha. She is the only female to win the World Amateur Boxing Championship six times, the only female boxer to have won a medal in each one of the first seven World Championships, and the only boxer (male or female) to win eight World Championship medals. She was awarded the Padma Vibhushan, India's second highest civilian award.
In October 2019, the International Olympic Committee (IOC) named her as a female representative of boxing's athlete ambassadors group for the 2020 Summer Olympics in Tokyo.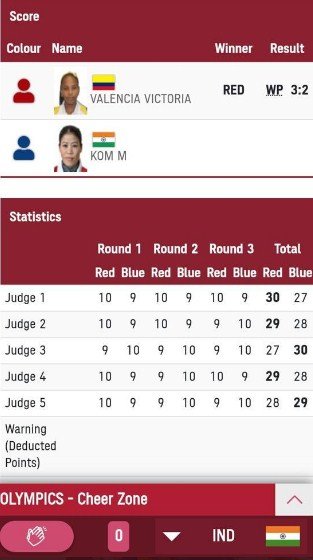 Indian boxing star MC Mary Kom has bowed out of Tokyo Olympics after losing to Colombia's Ingrit Lorena Victoria Valencia in women's 51kg by 3:2 split decision.
Valencia got off to a flyer as she won the first round. Four out of the five judges gave her a 10 while one had a 9 for her showing.