Request Price: The price of Request Network (REQ) is $0.9339 with a trading volume of over $600 million. It is around 200% high in the last 24-hours with a market cap of $899.27 million.
The all-time high of Request is $1.18 on 6th January 2018, and the lowest price of the coin since its ATH was $0.004495. Since the last cycle low of REQ, the highest price was $1.02.
REQ Price Prediction: It is a bullish market now with 27 technical analysis signals and 2 bearish signals, based on 26th November 2021 data, according to the coincodex. So the price of Request would be $2.03 in November 2022.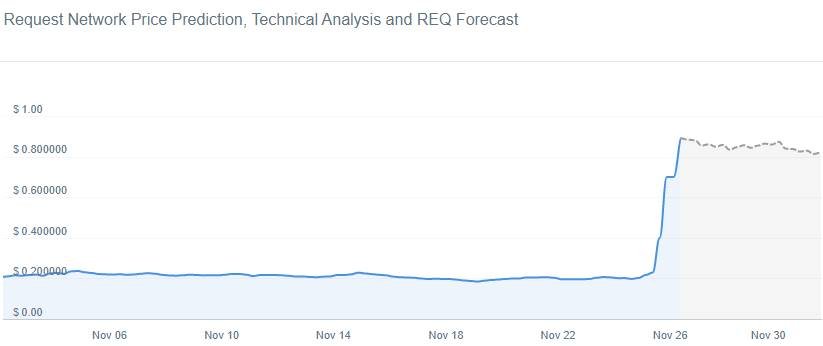 As of today, the Request's current circulating supply is 729.66 million REQ. But there is no maximum supply for this coin. According to the Coinmartketcap, the Request is in the 114th position based on market cap. Currently ranked 27th in the DeFi Coins sector and 62nd rank in the Ethereum (ERC20) sector.
Where and How to Buy Request (REQ)?
For trading in Request stock, the coin is currently available on the following exchanges such as Binance, Mandala Exchange, OKEx, Huobi Global, and KuCoin.
There are common steps to follow:
Go to the Binance exchange you want to trade REQ and sign up with an email and password.
Verify the account if required.
Add funds to the wallet or deposit crypto.
Now, buy REQ!
Stay tuned for more latest updates!