TN 12th Exam 2021 Update: After CBSE, CISCE boards, other state board has started to cancel the public exams of class 12. UP board, Haryana board, MP board, GSEB, UBSE, Maharashtra board, RBSE and several other state boards have already cancelled their 12th board exams.
In the list, now Tamil Nadu state Government has cancelled +2 exams today. It was been in a discussion for more than a week. Then the Educational Minister of Tamil Nadu has took the survey from parents of Tamil Nadu 12th students and parents via mail and submitted it to the Chief Minister of Tamil Nadu MK Stalin.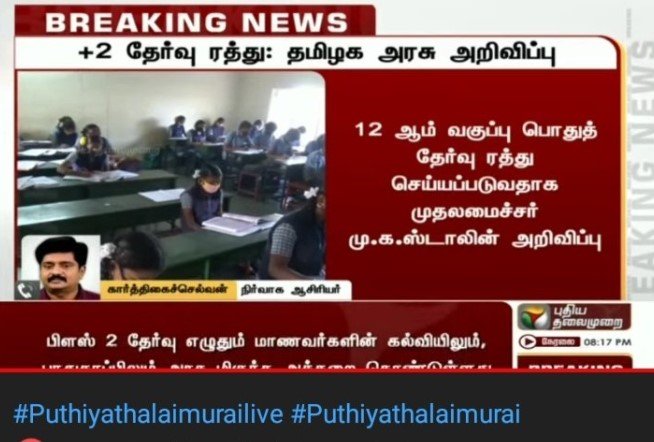 Finally, it was decided today that 12th exam 2021 in Tamil Nadu has been cancelled. In consideration of students physical health and mental health, the 12th exams has been cancelled. They also state that students health is more important than the exam and hence the exams are cancelled.
The class 12 Board exam in Tamil Nadu is scheduled on May 3rd 2021. But due to election result, the first exam was postponed to last. Thereby covid cases starts rising in Tamil Nadu and exams were postponed without announcing the dates. Later board exams in many states were cancelled followed by CBSE and ISCE.
Tamil Nadu state Government were under discussion and finally too a decision today. Already 1st to 8th was given all pass for the year 2021. After that 9th, 10th and 11th class was given all pass for the students. Then it was thought that exams would be conducted in September 2021 after all the students were vaccinated. But considering the physical and mental health conditions of the 12th students, the Board exam 2021 were cancelled in Tamil Nadu by the state Government.