Tata Chemicals shares are NSE 8.49 percent on Friday jumped nearly 10 percent. It happened after the company reported a multi-fold jump in consolidated net profit for the June quarter. The stock gained 9.70 percent to its 52-week high of Rs 844 on BSE.
Experts said that the counter has given a breakout at ₹780 and it can go up to ₹940 in the next 6 months. Tata Chemicals management stated that this rise in operating income of the company is also due to the rise in the volume of soda ash business in the US and India.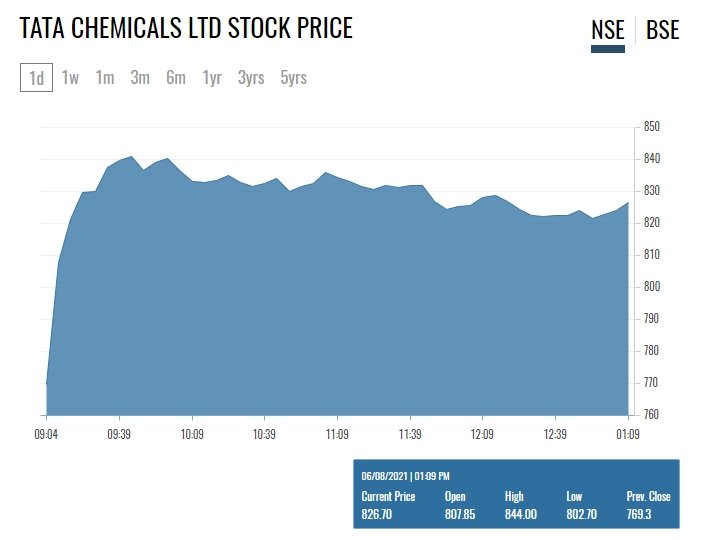 Mudit Goel of SMC Global Securities said One can buy the counter at around ₹820 maintaining stop loss at ₹780 for the six-month target of ₹940.
Avinash Gorakshkar said that this rise in profit is due to the rise in its soda ash business. It is expected to continue going northward as the product is mainly used in the electric vehicle industry. And in coming days its demand is expected to further go up. Since soda ash is a major product of Tata Chemicals, bulls are favoring this stock for the last one year."
Tata Chemicals Ltd. was incorporated in the year 1939. Its today's share price is 826.7 at the time of writing this article. Its current market capitalization stands at Rs 20951.16 Cr. In the latest quarter, the company has reported Gross Sales of Rs. 31362.4 Cr and Total Income of Rs.32180.3 Cr.