Vikram movie review: Vikram movie is a Tamil action movie led by Kamal Hasan. Director Lokesh is directing the film while also a fanboy of Kamal. The movie has created considerable excitement after the release of the first single.
The promotion of the film has started and going on a large scale. The movie is going to hit screens on June 3 all over the world. Vikram's first single song has got a tremendous hit among the audience. After many years, Kamal wrote the lyrics, sings a song, and danced to a rock song.
So this will be the first success of the Vikram Team. They also announced that the Vikram trailer and all songs will be revealed in today's Audio launch function.
Vikram Movie Review: Kamal Deliver the Blockbuster film
The latest Buzz is that Surya is playing a cameo role in this film which leads to Vikram 2. Lokesh has also invited Rajini, Vijay, Surya, and many celebrities to attend the function. We can wait and see if they are attending the function.
The function is happening at the Nehru Stadium on Sunday evening. As Suriya is playing a cameo role in 'Vikram', there is a high possibility for Suriya to attend the event. Meanwhile, we all know that Lokesh is all set to direct Thalapathy Vijay once again after 'Vikram'. Sources say that the filmmaker has personally asked Vijay about the function.
Where to watch Vikram Audio Launch?
The time and live stream of Vikram Audio Launch will be updated soon. Till then, you can see the latest and live updates of the audio launch here.
Vikram Audio Launch Live Updates
May 15, 2022 2:00 pm
ENDED
Latest update 9 months ago
Vikram Audio Launch Live Streaming
Vikram Audio Launch will telecast on 22nd May 2022 at 03 PM. The official announcement will reveal shortly.
DD is going to Host Vikram Audi Launch
https://twitter.com/DhivyaDharshini/status/1525713916621230080
🤗🤗🙏🙏Thnks @sri50 sir https://t.co/Pa1ldqEI4K

— DD Neelakandan (@DhivyaDharshini) May 15, 2022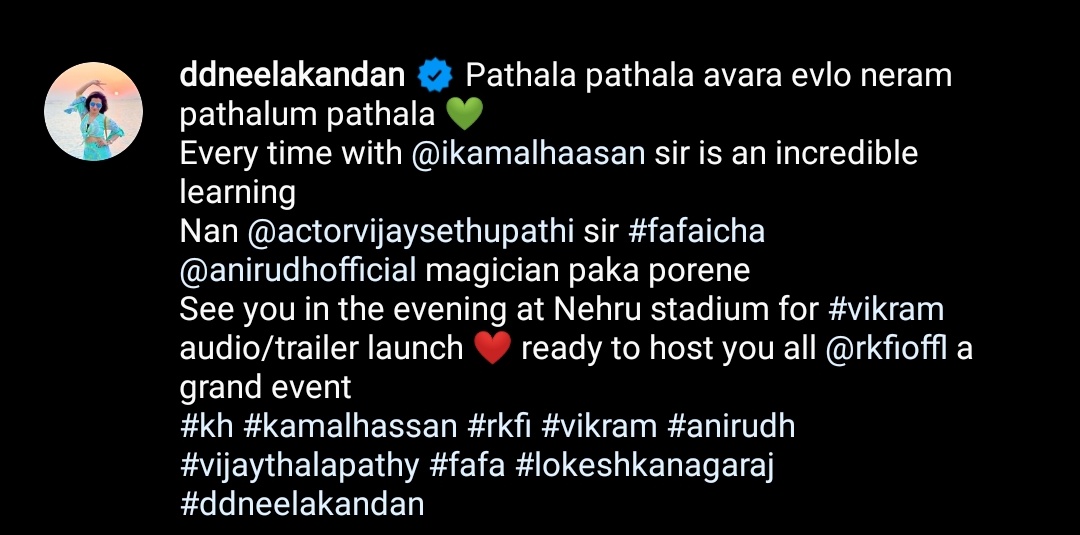 She also mentioned the Vijay hashtag in her recent Instagram post. So we can expect a Thalapathy Vijay for the event.
Stay tuned here for more updates about the live events from the team.