Village Cooking Channel (VCC) owned by Jeya Bhaskaran from a village called Chinna Veeramangalam, Pudukkottai district has now international audience. Team of VCC has five chefs and cameraman which is having more than 9 million subscribers has been treating their viewers from local dishes to muiti cuisines. They are basically paddy farmers and Cameraman Subramanian, M.Phil graduate also VCC techie who films the dishes.
Village Cooking Channel on Youtube
'Ellarum vaanga, always welcomes you!' has become their trademark where the team yells out enthusiastically before they starts their every dish. After filming their dishes, they serve the food to an orphanage and local people in the village. The monthly earnings were roughly around 10 Lakhs from Youtube channel only and  they also earn from their field. Also they partly helping the orphans and needy people in their village.
The chefs in the team have their own fan following — Ayyanar's skill with the stone grinder (ammi) gets many comments, while Muthumanickam's expert onion chopping is also popular. The team avoids using modern conveniences like pressure cookers and electric mixer and they follow traditional method of cooking without gas cylinders.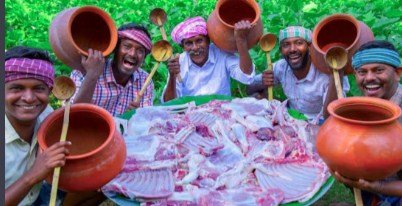 Before the pandemic lockdown, VCC team usually upload 3 to 4 cooking videos per week on their channel. Due to this lock-down, they are currently observing social distancing rules by going off air. They are also eagerly waiting for Muthumanickam's wedding which got delayed because of lock-down.
Vilage Cooking Channel Chefs with Rahul Gandhi  
Rahul Gandhi, who was in Tamilnadu for the election campaigning during the month of January also participated in the cooking channel. The Congress leader mingles with the team for preparing Mushroom Briyani. He enjoys the cooking part with the cooks and shouts out every ingredients in tamil like a main chef in the video. Later, hot mushroom Briyani was served to him in a Banana leaf and enjoys the food which he said tastes good in Tamil – "nalla irukku".
Video of Rahul Gandhi with Village Cooking Channel