Watch Bigg Boss Season 6 Tamil Online: Kollywood's most popular reality show Bigg Boss Tamil 6 has started. The show started on October 9 and will end after 105 Days. Like all seasons, Actor Kamal is hosting the show this season.
During weekdays, all episodes will be telecasted on Vijay Television from 09:30 PM to 10:30 PM. During weekends, the show will be telecasted from 09:30 PM to 11:00 PM. Because, on the weekend, actor Kamal will come and interact with the contestants and eliminations will also happen on weekends.
In Bigg Boss season 6 Tamil, the audience can watch 24×7 live streaming on Hotstar. For that, they want to subscribe to Hotstar by doing payments of Rs. 499 per year. After that customers can watch the 24×7 live streaming every day. And also you can see the all episodes reviewed on our website.
The first week of Bigg Boss 6 has completed and new contestant Nandhini has entered the house. She will be the 21st contestant in the house and GP Muthu well be the first captain of this season.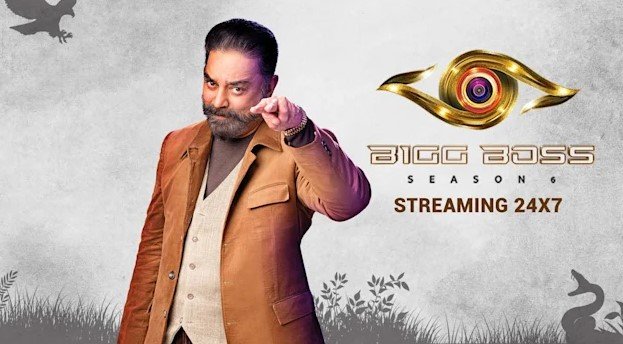 Watch Bigg Boss Tamil Season 6 Live 24×7 On Hotstar Free
If you are a member of Flipkart Plus, you are eligible to get a free subscription to Disney+Hotstar Mobile for an entire year. You can unlock Hotstar mobile features with your Flipkart SuperCoins and watch programs, reality shows, and spots on Hotstar without any interruptions from advertisements.
Read Also: Bigg Boss 6 Tamil Contestants Full Details
Bigg Boss Tamil 6 Contestants
| | |
| --- | --- |
| Aysha | Serial Actress |
| Nivaa | Model |
| Manisha Yadav | Actress |
| GP Muthu | Youtuber and Tiktoker |
| Dhanalakshmi | Tiktoker |
| Asal | Singer & Rapper |
| Sheriina Sam | Model & Actress |
| Janany | News Reader |
| Mohammed Azeem | Television Actor |
| VJ Kathirravan | Actor |
| Vikraman | Tamil Actor and Politician |
| VJ Maheshwari | Tamil actress |
| Ram Ramasamy | Actor |
| Shivin Ganesan | Model |
| Dinesh Kanagaratnam | Music Composer |
| Amudhavanan | Actor, Dancer, and Comedian |
| Rachitha Mahalaxmi | Indian Television actress |
| Robert Master | Dancer and Choreographer |
| Shanthi Master | Dance and Choreographer |
| Queency Stanly | Tamil actress |
Watch Bigg Boss Tamil 6 Live Streaming
Step 1: Login into Hotstar App by Mobile number and enter OTP.
Step 2: Go to your Profile and choose the plan that you want.
Step 3: Then choose the payment method and do the payment.
Step 4: After Payment, now you can watch Bigg Boss 6 Tamil live streaming.
Bigg Boss Tamil 6 All Episodes Review
Bigg Boss 6 Tamil Day 1 Review/Episode 1 Review: Kamal Haasan sets the ball of entertainment rolling as he returns with a new season of the greatest reality show! Stay tuned as he welcomes the housemates to the BB house.
Bigg Boss 6 Tamil Day 1 Review/Episode 2 Review: As all the housemates settle down, BB unsettles them by asking them to select the four least impressive contestants. The next day kick starts with wishes from previous years' champions.
Bigg Boss 6 Tamil Day 2 Review/Episode 3 Review: Housemates wrap up the icebreaker task while Aysha sheds tears in silence. The next day, chaos erupts in the house when BB asks them to share reviews about each club.
Bigg Boss 6 Tamil Missed Call Voting
Bigg Boss 6 Tamil Day 3 Review/Episode 4 Review: Things turn sour in the house when club captains get a chance to swap their members. Further, Dhanalakshmi's remarks on cooking lead to a heated argument amongst the kitchen team.
Bigg Boss 6 Tamil Day 4 Review/Episode 5 Review: During the reviews, Maheshwari and Azeem get into a Verbal War. Meanwhile, GP Muthu locks horns with Dhanalakshmi. Can they resolve the issues?
Bigg Boss 6 Tamil Day 5 Review/Episode 6 Review: Dhanalakshmi breaks down when Janany swaps her from the team. Later, the housemates participate in various tasks and gather to choose the best and worst performers of the week.

Bigg Boss 6 Tamil Day 6 Review/Episode 7 Review: After an exhaustive first week, Ulaganayagan greets the housemates with intriguing tasks and discusses the ongoing issues. He also gives a piece of advice to Dhanalakshmi and Shivin.
Bigg Boss 6 Tamil Day 7 Review/Episode 8 Review: Kamal Haasan hosts thought-provoking tasks to improve communication between housemates. After his fun banter with GP Muthu and Kathirravan, he makes a shocking announcement.
Bigg Boss 6 Tamil Day 8 Review/Episode 9 Review: With a lot of excitement, Shanthi, Janany, and GP Muthu compete for captaincy. As the new captain is elected, the housemates prepare for the next big task, their first nominations.
Stay tuned here to know the daily episode reviews which will be updated at 09:00 PM every day.