Unless you've been living under the rock, you've already heard about Scandinavian interior design. Scandy décor is perfect for today's fast-paced life, which makes it important to come home to a space that allows you to rejuvenate and get ready for another day of hustling. The muted colours, clean lines, and the overall soothing vibe of the Scandinavian aesthetic promote hygge – the idea of being cosy and comfortable in your surroundings.
These factors have made Scandinavian interior design extremely popular in millennial homes. Young professionals are adopting various features of this design aesthetic in their homes and turning their living spaces into Nordic paradises. While Scandinavian design can be incorporated into every room of your house, Scandinavian interior design ideas for halls are becoming increasingly popular.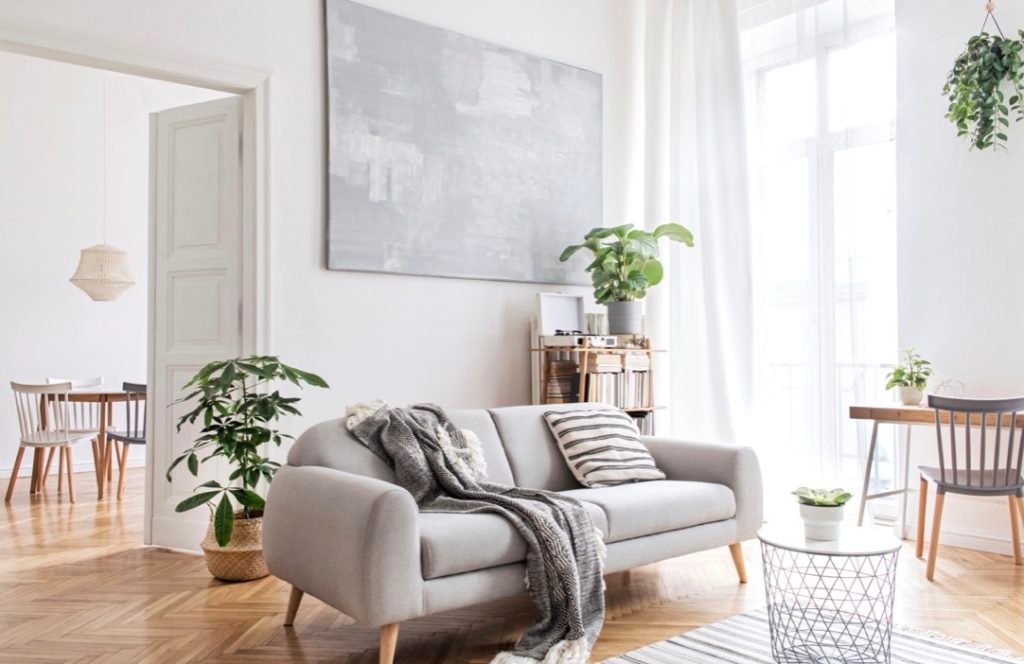 So, if you're interested in giving your living room a Scandy-spin, we've got a few tips to get you started. But before we get to these tips, let's discuss in detail what Scandinavian interior design really is. 
Scandinavian decors have been popular for many years. This design idea was prominent even two decades ago and has remained trendy to date. This aesthetic is totally in vogue right now, and if you're looking for ideas for your home décor, this may be the one. 
Scandinavian design is about more than just furniture; from electronics to fashion, architecture to interior design, characteristics of Scandinavian minimalism have made their way into every part of our lives. But what exactly does Scandinavian design imply?
Scandinavian design is distinguished by a minimalist, clean aesthetic that attempts to blend efficiency and beauty. Its emphasis is on clean lines and bright rooms free of clutter. 
These concepts apply to all aspects of design, from architecture to electronics, although they are most typically applied to interior design, which includes furniture, textiles, ceramics, and lighting. 
There is often nothing excessive about Scandinavian design; it removes away the useless, highlighting the fundamental features of every object.
This clean yet warm concept, along with the relaxing nature of a vast, light-filled area devoid of clutter, is one of the reasons Scandinavian design is so popular. 
This type of Nordic minimalism helps individuals to welcome tranquility into their homes without producing an uninviting or frigid environment. It has a lot of energy without being hectic.
Before we get into how you may combine these design aspects into your décor, let's first define the Scandinavian design aesthetic.
This design style emphasises minimalism and simplicity. It's also about utility, clean structures, and organic art. Natural fabrics like jute, timber, and fur are prevalent in this décor. 
So, how can you include Scandy design aspects in your interior design for halls? Read on.
# 1 Opt for Muted Colours 
The first and the foremost prerequisite for Scandinavian interior design is a muted colour palette. The interior design for halls needs to be statement worthy and that is very much achievable with a muted colour palette. But remember to not make it cold. Opt for vivid pops of vibrancy with earthy accents like maroon, teal, or mustard to give your room a splash of life. 
# 2 Warm Textiles
The intense cold in the Nordic area has influenced their preference of fabrics in house decor. Warm fabrics are a popular option. This means you'll be using a lot of sheepskin, wool, or mohair in your throw blankets, cushions, and rugs. 
This might not always be practical in a hot climate like India. To get your desired aesthetic without feeling too hot, use a few selective Scandinavian elements such as wall hangings or cushions.
# 3 Play With Contrasts
Contrasts are a key component in Scandinavian design. If your foundation hue is ivory or tan, use dramatic dark contrasts in your electric fixtures or accessories. The goal is to use contrasts to generate drama in your interior design for halls.
# 4 Modern Furniture is IN! 
The utilisation of contemporary furniture in home décor is the foundation of Scandy living room design. It's an intriguing combination of forms and textures, timber and leather. It's both sophisticated and lively. Dried flowers and twigs put creatively in your abode can give your décor an organic feel. 
Although wood is usually popular in this style, you may include a few metal pieces in the design. Designers use this approach to bring a surprise element to the décor.
# 5 Vivid Textures 
Streamlined furnishings and subdued tones may make your space appear dreary. However, by including different textures in your interior design for halls, such as fake fur pillows or kilim rugs or dhurries, you can add beauty and warmth to your Scandinavian living room decor.
# 6 No Clutter 
Clutter does not mix well with Scandinavian magic. While getting rid of your unorganised clutter is a good start, take it a step ahead and get rid of the antiques you got home from your adventures abroad. If your collectible isn't adding to the room's aesthetic, toss it in the trash.
# 7 High-Quality Craftsmanship 
Scandinavian furniture exudes quality and design. Choose natural materials and breathtakingly gorgeous furnishings to get this style. This applies to all aspects of your living room ideas, including light fixtures. The attractiveness of your design will be enhanced by the richness of your pieces. 
Clean lines and simple yet beautiful curves are distinguishing characteristics of Scandinavian design when it comes to timber furniture.
The Scandy design trend is not going away anytime soon. This timeless decor theme will give your property a stylish and refined appearance. If you're also looking for ways to add a Nordic touch to your hall interiors, it's best to go for reputed interior design companies Like Livspace. 
Livspace is a reputed interior design company providing end-to-end services to give your home a whole new look. Visit their website for more information on their offerings.