Google has updated its Maps app to show electric vehicle (EV) charging stations in Android Auto, making it easier for drivers to find a place to plug in their cars. The new feature is part of the latest version of Google Maps, which also includes improvements to the navigation interface and the ability to customize the app launcher.
EV chargers in Google Maps
Google Maps has been showing EV chargers for a while, but only on mobile devices and web browsers. Now, drivers can see them on their car's infotainment system, thanks to Android Auto. This means they can plan their trips and routes based on the availability and compatibility of charging stations, without having to switch to their phones or use a separate app.
To see the EV chargers in Google Maps, drivers need to tap on the search icon and select "Electric vehicle charging" from the list of categories. They can also use voice commands to ask Google Assistant to find nearby chargers. Google Maps will show the location, type, and status of the chargers, as well as user ratings and photos. Drivers can also filter the results by plug type, availability, and payment method.
Google Maps supports a variety of EV charging networks, such as Tesla, ChargePoint, EVgo, SemaConnect, and more. It also shows real-time information about the occupancy and price of the chargers, where available. This can help drivers avoid wasting time and money on busy or expensive stations.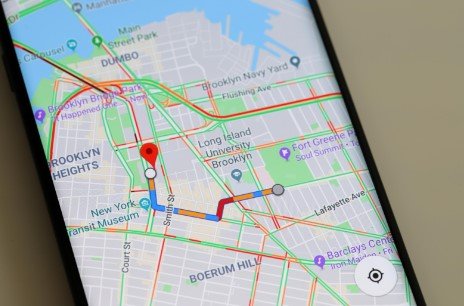 Navigation interface improvements
The latest update of Google Maps also brings some changes to the navigation interface in Android Auto. The app now shows more information on the screen, such as alternate routes, lane guidance, street names, and distance to the next turn. The app also uses larger fonts and buttons, making it easier to read and interact with.
Additionally, Google Maps has added a split-screen view for cars with wider screens. This allows drivers to see both the map and the turn-by-turn directions at the same time, without having to switch between them. The split-screen view also shows other useful information, such as traffic conditions, ETA, and phone calls.
App launcher customization
Another new feature in Google Maps is the ability to customize the app launcher in Android Auto. Drivers can now rearrange, add, or remove apps from the launcher, according to their preferences and needs. They can also create shortcuts for their favorite destinations or contacts, making it faster and easier to navigate or call them.
To customize the app launcher, drivers need to tap on the profile icon in the top-right corner of the screen and select "Customize launcher". They can then drag and drop apps to change their order or visibility. They can also tap on the plus icon to add shortcuts for places or contacts.