Power outages can be unpredictable and troublesome. With the scorching temperature, power cuts become more frequent in the summertime. The only way you can avoid the torture of living without electricity during power outages is by getting an inverter.  
So, if you are looking for an inverter for your home or office, then you must be looking forward to learning about the terms such as maximum capacity, power ratings, lead-acid batteries, sine-wave output, and so on.  
Here is a comprehensive guide explaining all the important factors to be considered and a list of inverters with the best features and low inverter prices.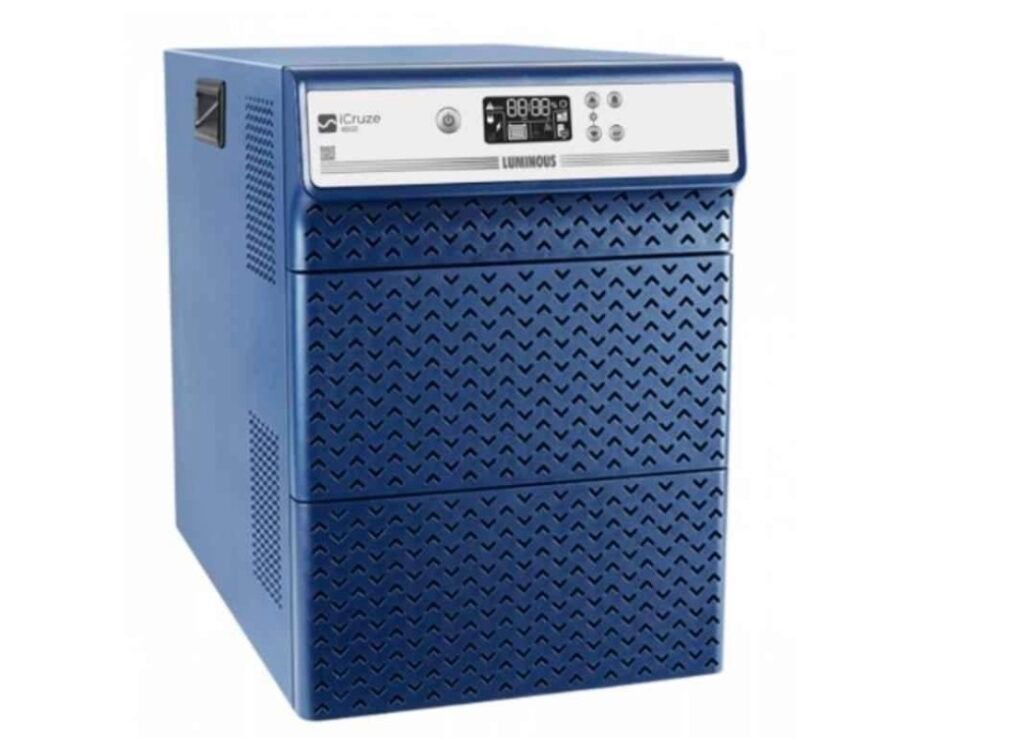 Image source: Luminous  
Factors to consider before buying an inverter: 
The primary step is to determine the power requirements of your home. Roughly estimate the power required to run your appliances in case of a power cut. It ensures the smooth functioning of your appliances and prevents overloading the inverter. 
Inverter price is an obvious factor to consider before buying one. The inverter price depends upon various properties of the inverter, such as its capacity, rated power, the technology & protection features used, etc.  
Battery, the backbone of the inverter, is available in different types based on technology, design, and applications. They are available in different types such as flat plate, tubular, Lithium-ion, gel range batteries, SMF etc. It is important to note that the inverter price also varies with the different types of batteries.  
The current rate that a battery can supply in a particular time duration is called its capacity. This capacity is expressed in terms of Ah or Ampere hour and can be simply calculated using a formula.   
The inverters also come with different capacities, wherein the high-capacity inverters, useful for high-power appliances, usually consist of a set of two batteries. On the other hand, a single battery inverter is sufficient to run low-capacity appliances.   
Along with the inverter price, the warranty period is also something that most people are concerned about. Longer the warranty period, the better the quality of the product. The warranty period of the inverter usually varies from that of the inverter battery. The battery is a crucial part of an inverter, so make sure you invest in a device that offers a warranty for a longer period.  Most of the good inverter's brands provides 24 months of warranty   
Sine wave, modified sine wave, and square wave are three basic types of output waves produced by an inverter. Sine wave inverters are considered extremely efficient and safe due to their noiseless output production.  
Now that you know the factors that you need to keep in mind while buying an inverter, here are a few inverters by Luminous that are both efficient and budget-friendly: 
Luminous Zelio Smart 1100 inverter and RC18000 150 Ah tubular battery

 
This is a combo consisting of an inverter that supports 756-watt power and a capacity of 900 VA. It is a sine wave inverter with an Intelligent 32-bit DSP processor. It has a tall tubular battery of 12V with 150 Ah capacity. The warranty period of the battery is 36 months, while that of the inverter is 24 months.  
Icon 1100 inverter and 200 Ah – RC25000 battery

 
This is another excellent combination with a pure sine wave inverter and tubular battery. The capacity of this inverter is 900 VA with a rated power of 756 W. It is completely safe for children as it comes with no open wires. Battery can be installed inside the inverter which makes it safest inverter in the market. This battery requires low maintenance and is suitable for frequent power outages. 
Zelio 1700 inverter and RC18000 150 Ah tubular battery

 
It is a sine wave inverter with an intelligent 32-bit DSP processor that comes with a warranty period of 24 months. It is useful for Mid-capacity appliances and frequent power cuts. The battery requires minimum maintenance and provides a 36 months warranty with high durability. Moreover, it comes with a low inverter price and maximum efficiency.