Playing games with friends is a great way to have fun and bond with them. Thanks to the power of the internet, you can get together and play a game or two with friends even if they're strewn all over the world. Playing games with friends can also be beneficial for your mental health. So, whether you're looking for a way to bond with friends or just want to have some fun, playing games can be just the ticket. Let's take a look at some options:
Fortnite
If you're looking for a game to play with your friends, Fortnite is a perfect choice. It's a cooperative game where you work together to survive in a post-apocalyptic world. You'll need to build defenses, gather resources, and battle zombies and other monsters. Alternatively, you can square off against those same friends (and many other people) in the battle royale mode. Released in 2017 by Epic Games, Fortnite has millions of daily users. With its fast-paced gameplay and exciting challenges, Fortnite is sure to keep you entertained for hours on end. So what are you waiting for? Grab your friends and get started!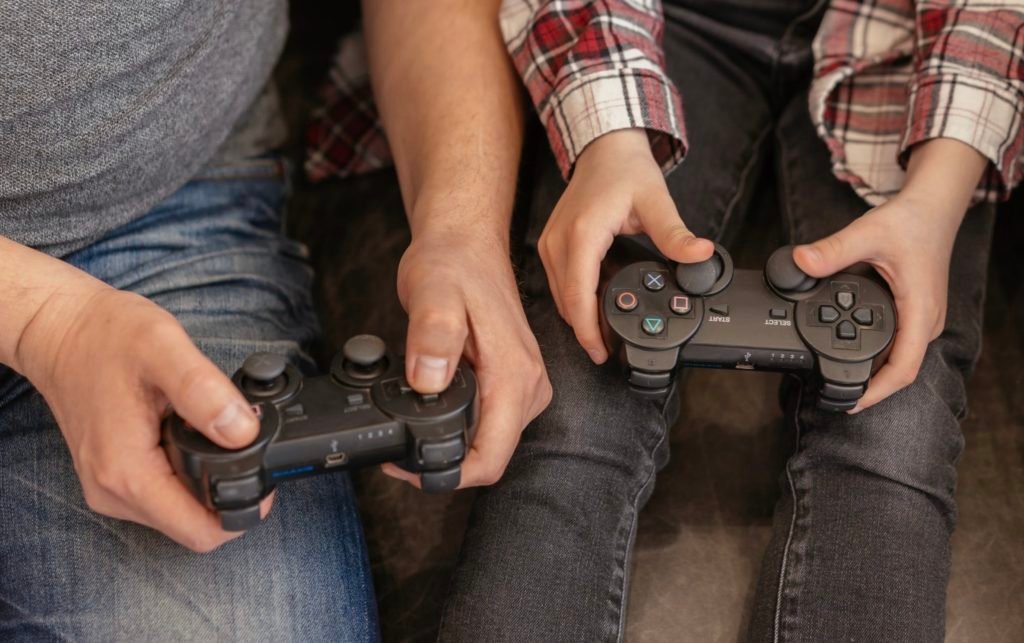 Minecraft
Minecraft is a game that you can play on almost any device and operating system. It's a block-building game where you can build anything you want out of different blocks. You can also play online with other people and create amazing things together. Minecraft is a great game to play with friends because you can all work together to create something extraordinary. You can also play against each other in different game modes.
Bingo
Bingo has been popular for centuries, and it doesn't look like it will go away any time soon. The game is very easy to learn, and you can play with your friends in real-time. There are numerous websites for bingo offering all sorts of game variants – from traditional 90-ball and 75-ball bingo to more modern versions like Swedish bingo. 
The game is considered a low-risk form of gambling, which is why it's so popular. Plus, the adrenaline rush that comes with winning is unbeatable. If you're looking for a fun and easy online game to play, bingo is a perfect choice.
Monopoly
One of the best things about Monopoly is that it's a game that players of all ages can enjoy. It's perfect for bringing friends and family together for some fun competition. The game is easy to learn but offers plenty of strategy and creative play opportunities. 
Online poker
Online poker is another exciting game to play with friends. There are many different variants of the game, which means there is always something new to try out. Additionally, the social aspect of playing online poker with friends is unbeatable – you can chat and banter while you play, making for a fun and engaging experience. If you're looking for a fun and exciting game to play with friends, online poker is the way to go. You can spice up the game by gambling with Bitcoins or any other crypto you prefer.
Pokemon Go
Since its release in 2016, Pokemon Go has quickly become one of the most popular mobile games in the world. The app uses augmented reality technology to allow players to catch pokemon in the real world and has spawned numerous viral trends and memes. While it's been praised for its innovative gameplay, it has also faced criticism for causing accidents and injuries. Regardless, Pokemon Go will undoubtedly remain a popular gaming sensation for years to come.
NBA 2k22
NBA 2k22 is the latest installment of the popular NBA basketball video game franchise. Developed by Visual Concepts and published by 2K Sports. The game allows players to assume the role of actual NBA players, create their custom players, and compete in various game modes against other players or the computer.
Sea of Thieves
If you're looking for a pirate adventure game to play with friends, Sea of Thieves is a great option. It's an online pirate adventure game that allows players to team up and sail the seas in search of treasure. The game is set in a shared world, which means players can encounter others while out on their adventures. Sea of Thieves offers a variety of different activities for players to enjoy, including hunting for treasure, battling skeletons and other players, and exploring the world. The game is constantly updated with new content, so players can always find something new to do.
Uno
Uno is a popular game that people of all ages can enjoy. It is easy to learn but can be challenging to master, and there are endless ways to play. Whether you're playing with friends or family, online or in person, Uno is always a blast. So why not give it a try? You just might become an addict!
Mortal Kombat
Mortal Kombat is a fighting game franchise first developed by Midway Games in 1992. It was one of the first arcade games to feature hand-to-hand combat. The game has been ported to numerous video game consoles and home computers. A reboot of the game was released in 2011. The game has been credited with popularizing the one-on-one fighting game genre.