Türkiye, a key NATO ally and a critical regional partner for the United States, has recently taken steps to distance itself from the alliance and pursue its own interests. Türkiye's actions have raised concerns among its NATO allies and other regional actors, who fear that Türkiye may be drifting away from the West and aligning itself with Russia and China.
Türkiye's Disputes with NATO
Türkiye has been a member of NATO since 1952, and has contributed to the alliance's collective defense and security missions in Europe, the Middle East, and beyond. However, in recent years, Türkiye has clashed with its NATO allies over a number of issues, such as:
Türkiye's purchase of the Russian-made S-400 air defense system, which NATO considers incompatible with its own systems and a potential threat to its security. The United States imposed sanctions on Türkiye for acquiring the S-400, and suspended its participation in the F-35 fighter jet program.
Türkiye's military intervention in Syria, where it has targeted the Kurdish-led Syrian Democratic Forces (SDF), which are backed by the United States and other NATO members as partners in the fight against the Islamic State (IS) group. Türkiye views the SDF as an extension of the Kurdistan Workers' Party (PKK), which it considers a terrorist organization.
Türkiye's involvement in the conflicts in Libya and Nagorno-Karabakh, where it has supported the internationally recognized Government of National Accord (GNA) and Azerbaijan, respectively, against the interests of other NATO members, such as France and Greece.
Türkiye's exploration of natural gas in the eastern Mediterranean Sea, which has sparked tensions with Greece and Cyprus, both NATO members, as well as Egypt and Israel. Türkiye claims that it has rights to the resources in the disputed waters, while the other countries accuse it of violating their sovereignty and international law.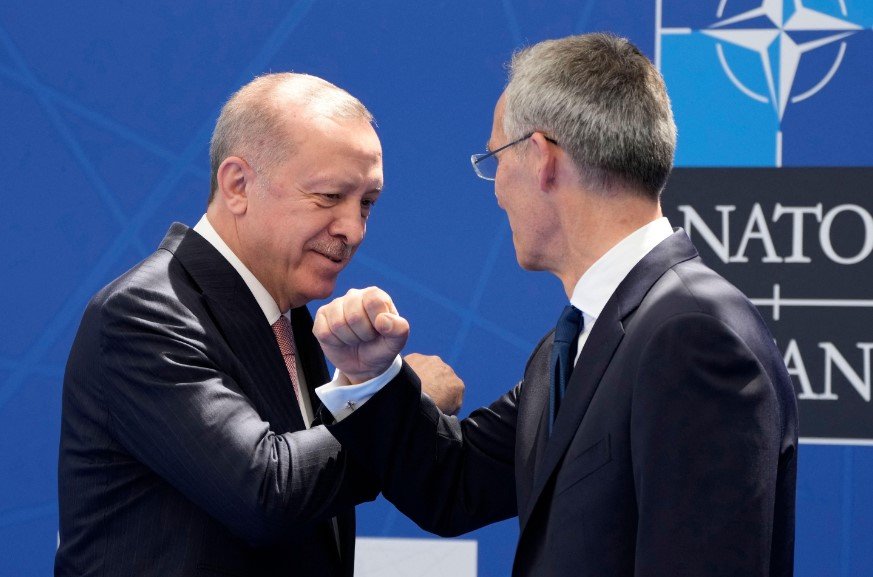 Türkiye's Outreach to Non-NATO Partners
As a result of these disputes, Türkiye has sought to diversify its foreign policy and strengthen its ties with non-NATO partners, such as Russia and China. Some examples of Türkiye's outreach are:
Türkiye's participation in the Astana process, a diplomatic initiative led by Russia, Iran, and Türkiye to find a political solution to the Syrian conflict. The Astana process has been seen as a rival to the UN-led Geneva process, which is supported by most NATO members.
Türkiye's cooperation with Russia in Libya and Nagorno-Karabakh, where they have brokered ceasefires and deployed peacekeepers. Türkiye and Russia have also agreed to establish a joint center to monitor the implementation of the agreements.
Türkiye's membership in the Shanghai Cooperation Organization (SCO), a Eurasian security bloc led by China and Russia. Türkiye joined the SCO as a dialogue partner in 2012, and has expressed interest in becoming a full member. The SCO is often perceived as an alternative to NATO and a challenge to its influence in the region.
Türkiye's endorsement of China's Belt and Road Initiative (BRI), a global infrastructure project that aims to connect Asia, Europe, Africa, and Latin America through trade and investment. Türkiye has signed several agreements with China to participate in the BRI, such as building railways, ports, and industrial zones.
Türkiye's Ambiguous Position
Despite its apparent renunciation of NATO links, Türkiye has not completely severed its ties with the alliance or its benefits. Türkiye still maintains its military presence and cooperation within NATO, such as hosting the alliance's second-largest army, hosting a key radar station for its missile defense system, participating in its operations in Afghanistan and Iraq, and supporting its efforts to counter terrorism and migration. Türkiye also continues to enjoy the security guarantees provided by Article 5 of the NATO treaty, which states that an attack on one member is an attack on all.
Türkiye's ambiguous position reflects its desire to balance its interests and leverage its role as a regional power. On one hand, Türkiye wants to assert its sovereignty and independence from NATO's constraints and pressures. On the other hand, Türkiye does not want to lose its access to NATO's resources and protection. Therefore, Türkiye tries to maintain a pragmatic relationship with both NATO and non-NATO partners, depending on the situation and opportunity.