The war between Ukraine and Russia has resulted in thousands of casualties, including many prisoners of war. But how are these captives treated by their captors? A recent report by The Economist gives a glimpse into the lives of Russian prisoners of war in a Ukrainian camp.
A camp for Russian captives
The report describes a camp in western Ukraine, where hundreds of Russian soldiers, conscripts, and mercenaries are held. The camp is one of 50 sites around Ukraine where Russian prisoners of war are detained. The camp is surrounded by barbed wire and guarded by Ukrainian soldiers. The prisoners live in barracks or tents, depending on the weather. They have access to basic amenities, such as food, water, toilets, showers, and medical care. They are also allowed to send and receive letters from their families every two weeks.
The camp is run by a former Ukrainian soldier named Yatsenko, who was himself a prisoner of war in Russia in 2014. He says he was tortured and humiliated by his captors, who forced him to confess to being a spy and a terrorist. He was eventually released in a prisoner exchange, but he still bears the scars of his ordeal.
Yatsenko says he treats his prisoners humanely, in accordance with the Geneva Convention. He says he does not abuse them physically or mentally, but he also does not sympathize with them. He says he sees them as invaders and aggressors, who came to his country to kill and destroy.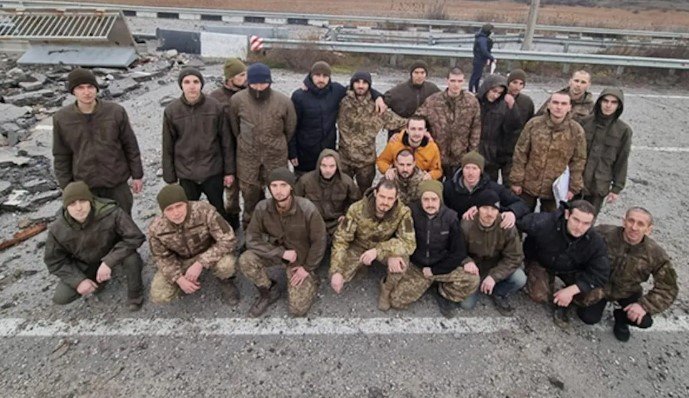 A glimpse into the minds of Russian soldiers
The report also interviews some of the prisoners, who share their stories and views on the war. Some of them say they were deceived by the Russian propaganda, which portrayed Ukraine as a fascist state that oppressed the Russian-speaking minority. They say they regret coming to Ukraine and participating in the invasion. They say they hope to be exchanged and return to their families.
Others say they were coerced or bribed by the Russian authorities or private military companies to join the war. They say they were promised money, citizenship, or amnesty for their crimes. They say they had no choice but to fight, or else they would face prison or worse.
Some of them still support the Russian cause and believe that Ukraine is part of Russia. They say they are proud of their service and willing to die for their motherland. They say they do not fear the Ukrainian soldiers or the international community.
A humanitarian challenge
The report highlights the humanitarian challenge posed by the large number of prisoners of war in the conflict. It says that prisoner exchanges have become a regular feature of the war, but they are often complicated and delayed by political and logistical issues. It says that both sides have accused each other of violating the rights of prisoners of war, such as exposing them to public curiosity, forcing them to make statements, or mistreating them.
The report also notes that some prisoners of war may face prosecution or persecution when they return to their home country, especially if they are seen as traitors or deserters. It says that some prisoners may prefer to stay in Ukraine or seek asylum in other countries, rather than go back to Russia.
The report concludes that the fate of the prisoners of war depends largely on the outcome of the war and the political will of both sides to resolve the conflict peacefully. It says that until then, the prisoners remain in limbo, waiting for their freedom or their doom.