Unicas is the world's first crypto financial institution with physical branches in different states of India. For the first time, people of India can buy/sell crypto at physical locations. Anyone can become a part of an ecosystem from beginners to pros. Unicas helps its banking customers to get deeper insight into the world of digital assets to invest with confidence.
Unicas Referral Code
If you are ready to join Unicas, you can use this referral code – aYyTv (or) click on the link below to signup and get exclusive offers.
Don't know what is Unicas? Read below and understand if you need account in Unicas.
What is Unicas?
Unicas is a bank, a Joint Venture between United and Cashaa to build the World's first crypto-friendly financial institution with physical branch locations.
With the remarkable technology in place, Unicas is enabling a coherent ecosystem of crypto adopters, financial institutions and skilled developers working together to bring the cryptocurrencies into the Indian financial sector.
Unicas Savings Account
Unicas savings account offers upto 9.67% Annual interest rate which is highest compared to all the top banks in India.
No minimum account balance required
No TDS deduction on your interests
Free cash deposit and withdrawals, across all branches
Store, send and receive crypto
Exchange crypto directly from your savings account
Unicas Lending
Unicas account holders can get cash against cryptocurrencies starting at 0.04% daily.
Use your cryptocurrencies as collateral to take a loan
Loan duration starting from one day
Instant approval, no credit checks required
Flexible repayment options
No hidden fees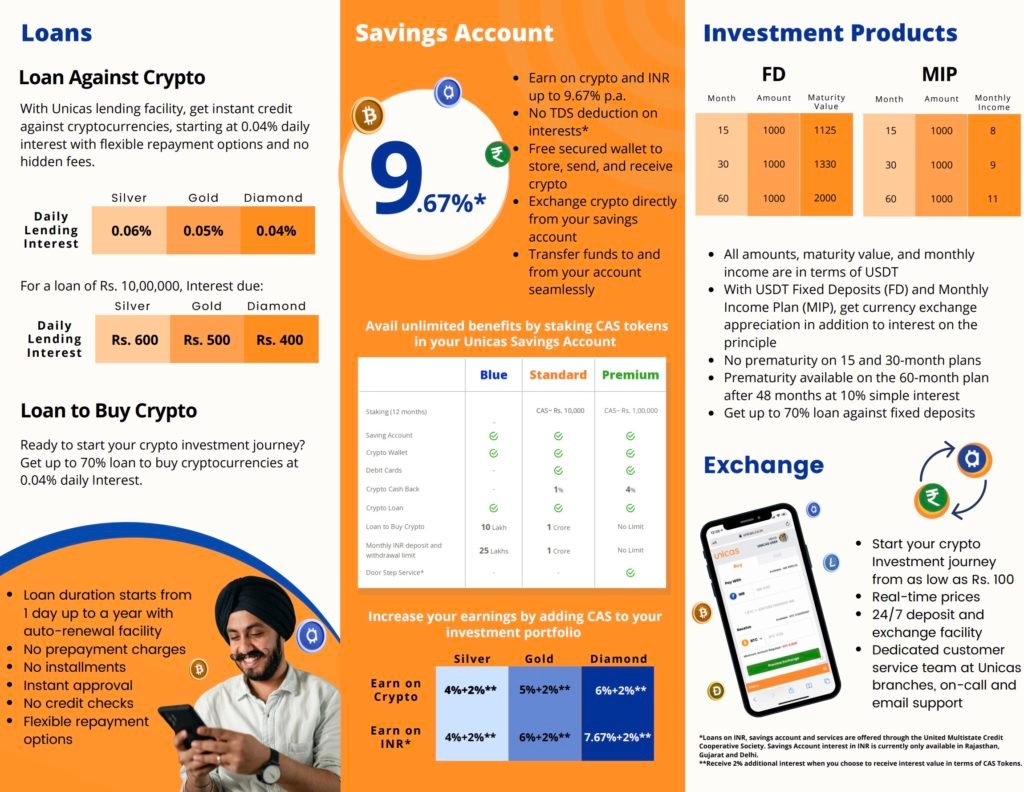 Unicard
Unicas offers an advanved debit card service. Users can spend the value of your cryptocurrency without having to sell it.
Accepted by millions of merchants
Hyper-personalized rewards & incentives
Cryptocurrency cashback
24/7 ATM withdrawals
No monthly/annual fees
Unicas Review
People who are in Crypto for more than 4 years and from India, they are already aware of how hard it is to deal with crypto investments with the top Indian banks like ICICI, Axis Bank, HDFC, etc. Banks like Kotak Bank, Bank of Baroda terminated their users savings accounts who invested in crypto using their bank.
It is people's money and they need to decide what they should do with their money. No financial institution can terminate the bank accounts on the go.
In order to provide solution to the crypto users, UNICAS was born. Unicas helps to manage INR as well as Crypto in a single dashboard. Crypto lovers can invest in crypto without any hassles with Unicas account.